To pay VAT or not to pay VAT That is the question.

Indeed, that is the question. When you're looking to create your printed material for distribution to your customers, undoubtedly cost is a critical factor in your decision making. What you may not know is that not all printed marketing material is VAT chargeable. VAT is value added tax added to most goods and services.
VAT Rates:
When it comes to printing, you will either find products that are standard rate (20% VAT) or zero rated (0% VAT). So it's worth taking the time to understand which items are categorised as zero rated and standard rated.
Zero rated items include:

advertising leaflets

catalogues
pamphlets
It is important to note that there are some exceptions to these zero-rated products. Leaflets are a particularly complicated item to categorise. Generally they are zero rated as long as there is a significant amount of text on at least one side of the leaflet, it must also be no larger than A4 and it must also be a single self-contained item and not part of a larger package. It also must not be printed on paper heavier than 230gsm.
Additionally, if a flyer is designed to obtain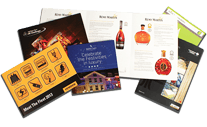 discounts on good or services, to obtain admission or entry to a place, for use as a calendar or as a form for completion, these flyers might not be deemed zero-rated. With brochures and booklets, there are also some exceptions to the zero-rated rule. These include brochure printing being used for commercial, engineering, architectural and industrial reasons or for calendars, diaries or address books.

All other products and services are standard rated, including:

banners
display boards
business stationary
envelopes
printed flyers
Essentially if your printed matter is to be used for commercial purposes then it is very likely it will have VAT added to it.
So what does having zero VAT and standard rated products mean for you?

Ultimately it means choice and cost effectiveness. Knowing that certain designs and formats can be significantly better value for your money can help shape how you design your marketing material.
It also helps you to know your rights when you are shopping for printed marketing material. Knowing those exceptions to the rule also means you are entering in to your printing project fully aware of the kind of costs you can expect.
If you're not sure you should always seek advice from a reputable and established printing company like Betterprinting to see what rate affects your choice of printed products. If your in any doubt then please give us a call on 02380 878037.