Swing Tags
Perfect for including ingredients, allergy information, prices and more, custom printed swing tags are your retail solution! Choose from a wide range of materials, including eco-friendly paper stocks.
Pick from a huge variety of finishing options including foiling, die-cutting, Spot UV and more…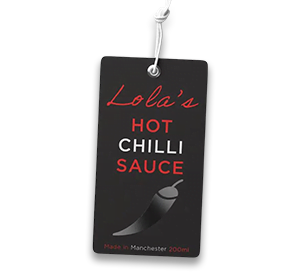 ---
Swing Tag
FAQ's
What is a swing tag?
A swing tag is a small piece of card or paper that is attached to a product with a string or ribbon. It usually contains information about the product, such as its brand, size, price, and care instructions.
What kind of information should be included on a swing tag?
The information on a swing tag can vary depending on the product, but it typically includes the product name, brand, size, price, and care instructions. It may also include information about the materials used to make the product or any special features or benefits.
How are swing tags attached to products?
Swing tags are typically attached to products with a string or ribbon. The string or ribbon is threaded through a hole punched in the swing tag and tied around the product.
Can you add reinforcements to the hole?
Yes, we can add paper reinforcement rings or metal eyelets. Please contact us for a price.
Can my swing tags be recycled after use?
Yes, as long as you don't add lamination the tag is fully recyclable after use.
Which paper should I choose if I want to write on the tag?
You can write on any of the paper stocks. Uncoated and recycled stock is suitable for any pen type. Silk and gloss are compatible with a biros, marker pens and many other pen types. Waterproof tags can also be written on with biro, marker pens and pencil. Please call us for a sample if you're in any doubt.
Is recycled stock the most environmentally friendly option?
All our paper stocks are responsibly sourced. The recycled stock is made from 100% recycled material but the argument can be made that recycled stock can't exist unless someone uses it first. Our silk and gloss stock is FSC mix credit.