Top 10 tips for designing your business card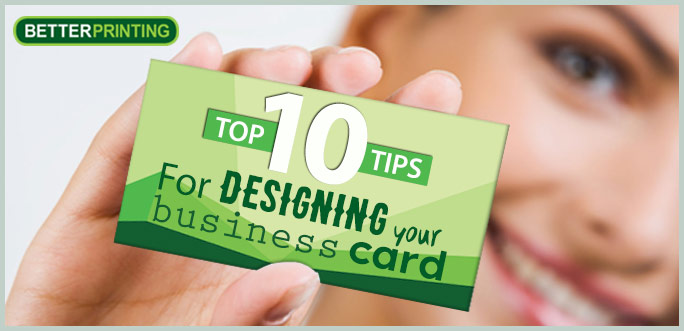 If the experts are right and it only takes 7 seconds to make a first impression, you need to make sure your business card is working it baby.
When you get your business card design right, your name and business will be remembered-get it wrong and you won't.  Put simply, if your business card doesn't inspire confidence, it won't help you generate new business.
So how do you make sure your business card is the right side of impressive? We've created a mini guide with our top 10 tips for designing an amazing business card.
1.    Who Are You?
You've only got a small window of space to let people know who you are and what you do, so think carefully about what you include. You name, job title, company name and contact details should be easy to read. Remember, you need to strike the balance between providing enough information and making your card look cluttered.
2.    Be Creative…
Your business card needs to pack a punch, so don't be afraid to play around with the shape or finish of your card; a die cut card in the shape of your choice or metallic ink or embossed lettering could really help your card stand out. At Better Printing we have a range of finishing options available so creating a unique and original card is easy.
3.    …But Don't underestimate the power of Simplicity
Sometimes a simple card with a black a white design is all you need and it can often looks more stylish too.
4.    Think Carefully About Your Fonts
Whilst it may be tempting to use something funky and out there, the first function of your font is to be readable. Also it's crucial to match your font to your brand and business. If you work for a funeral directors a font like this may not send the right message to potential clients.
5.    Colour is Key
It's tempting to throw all the colours under the sun at your card but its quality not quantity that's important. We recommend using 2-3 colours for the best results. Make sure to use colours that fit your brand-any inconsistencies can undermine the professional appearance of your company.
6.    Bleed/Margins:
When designing your card, always make sure you include a bleed area of at least 3mm, to ensure there are no borders or area missed in the print. Including a "safe area" in the centre of the card and situating any important information within this area, minimizes the danger of it being cut off during the printing process.
7.    Don't Skimp on Quality:
No matter how good your design is you won't impress anyone if it falls apart in your hands.  All our business cards are printed on 350gsm or thicker so your cards look professional and are less likely to be damaged when you hand them out.
8.    Make Use of the Reverse Side:
You've paid for the whole card so why not utilize as much of the space as possible? Use the other side of the card to show off your company logo and tagline, or if you're an artist why not include a miniature of your favourite work. The more exposure the better!
9.    Proof, Proof, Proof!
We can't stress it enough: it is crucial you check your finished design for errors! Once your design has gone to print there's no going back. So check thoroughly for potential spelling mistakes or design faux pas.
10.    Bundles Make for Great Value
Buying your all you business stationery at the same time not only allows us to offer you significant savings but it can also protect your brand. Buying everything from one printers means colour, font and design consistency across all your products, so the power of your brand is safe.
At Better Printing we don't just offer 'business card printing', but we work alongside you to make sure your card is the best it can be.
For more information see our full range of business cards here or contact our friendly and helpful staff today on 023 8087 8037 or email: info@BetterPrinting.co.uk and they'll be happy to answer any questions you have.