Bulk Printing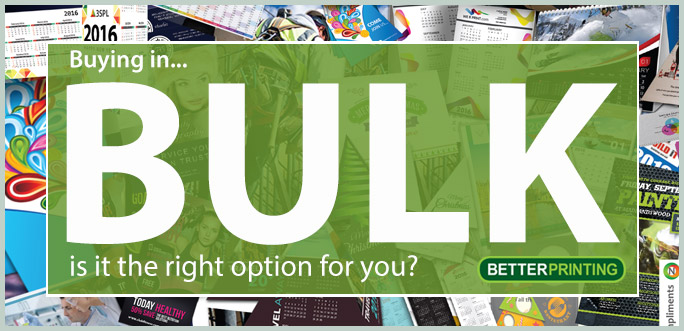 Whether you're a new start-up company or a huge conglomerate we know it's always important to save money where you can. Research shows that the more frequently customers buy products each month, the more money they actually end up spending. Is bulk buying a legitimate solution? Does it actually save you money?
Advantages to bulk buying your print:
Do the maths: larger quantities typically cost less per unit.
When you work out the difference in price, bulk buying usually results in a much healthier looking cost per unit-even without taking into account delivery costs. Take our A4 brochures for example. 500 brochures for £299 works out as 60p per brochure but if you buy 20,000 brochures at a cost of £2209 works out as only 13p per brochure. Which is quite a saving.
Bespoke die-cut designs are affordable.
The main reason bespoke die-cut products are so expensive is because a new cutter has to be made for each design and this cost has to be factored in to the price. When you're buying in bulk the savings mean having a unique design or shape is no longer significantly more expensive.
Cut down on delivery costs.
Buying a new set of business stationery every quarter means paying for 4 sets of delivery charges. By ordering in bulk you only pay for one set and you have enough letterheads that you don't have to worry about running out throughout the year.
Things to think about before you buy in bulk:
Try before you buy.
If you've never bought from a print company before or you've never used a particular product it's a good idea to request a hard copy proof or order a small quantity first before you commit to a large order. Else you could end up with a 1000s of leaflets you can't actually use. Samples are always available to review if you prefer.
Storage limitations.
This is common sense really, but make sure you only order the amount of products you actually have the space to store. There's nothing worse than filling your offices floor to ceiling with boxes of company brochures for months on end because you didn't think about how many boxes could fit into your storage cupboard.
Which product you need.
Whilst it's always a good idea to have a supply of business stationery and company folders the same can not be said for other products. Ordering a 1000 posters advertising your 1 week only Easter discount would likely end up in a lot of wasted paper and ink. So think carefully about what you will be using your product for and how often you will need it before you order 1000s of them.
In short: buying in bulk is a great way to get all the high quality products you need whilst saving you some pennies. Just make sure you think it all through before you order!
Check out our product range here to start ordering today!
Remember Better Printing is here to help. So if you have any questions or want more information about the services we offer just call us on 023 8087 8037 or email: info@BetterPrinting.co.uk