Building the perfect press kit
Whether you're launching a brand new product, hosting a special commercial event or you're simply looking to get your brand in front of more potential customers, a press kit is often the key to generating more media exposure for your business.
Also known as media kits or press packets, these handy tools essentially help you gain PR coverage from journalists, reporters, bloggers and the like by supplying them with everything they need to write their story piece; news, company information, images, resources and more.
These are busy people – they'll have countless stories, topics and brands all vying for their attention, so if they have to spend time hunting down these materials themselves, they'll be less inclined to cover you. Press kits provide all the materials in one place, making it easier for them to produce a write-up (and thereby increasing your chances of getting featured).
Press kits aren't just good for getting media exposure – they can also be helpful for courting retailers, distributors, brand partnerships and sometimes even prospective clients.
So, what should you include in your kit? The contents will depend largely on the kind of products/services/announcements you're looking to showcase and the goals you're hoping to achieve. Generally speaking, however, here are a few of the things most reporters will expect to find…
• A brief summary of why the recipient should be interested in you
• A list of your kit's contents (ideally arranged in order of importance)
• A quick thankyou message (particularly if the recipient has specifically reached out to you to request a copy of the kit)
• Contact details and an invitation to contact you if they need any more info (though bear in mind that your press kit should aim to answer all their questions ahead of time – more on this later)
It's smart to address each letter to each individual kit recipient by name, and including the publication they write for. This is not only more engaging than a generic letter, but it suggests you've researched the kinds of publications you want to feature in (rather than desperately mailing your kit out to anyone and everyone).
And don't forget to print your letter on letterhead paper branded with your logo; it gives communicates the professionalism and visual style of your organisation.
Press release
The centrepiece of your press kit should be the press release. It's here where you make your big announcement – the thing you want the media to report on.
We're not going to cover to essential elements of a press release in too much detail here, but remember to keep in concise and be sure to cover the 'five Ws' (who, what, where, when and why – perhaps with how included too).
Above all, make sure it's newsworthy. Journalists won't give you free PR for the sake of it, and they'll quickly see through stories which exist only to promote your business. Think about the things they'll actually want to cover – industry innovations, new product launches, big corporate structure changes and the like.
What if you don't necessarily have anything to announce? It's useful to have a generic, all-purpose kit ready to go if people simply want to learn more about your business, but it's perhaps wiser to distribute this as an electronic press kit (EPK) which users can download from your website.
Frequently asked questions
Reporters are often up against tight publishing deadlines. If they have to spend time contacting you for additional information and/or waiting for you to respond, they may well skip over your story in favour of something else.
The FAQ sheet in your press kit is where you'll anticipate the kinds of questions journalists will have about your story or company and provide all the answers; plus it's a great place to include additional information that won't fit neatly into your press release.
As you distribute your press kits, take note of any new questions that writers send your way. These questions can then be included and answered in subsequent versions of your kit.
Company biography
Your press kit also certainly needs a biography of your organisation; both to help journalists get familiar with your brand and to help them introduce your brand to potential customers.
Don't get too caught up in brand narcissism at this stage! Remember, your bio is there to introduce your company and contribute to the key message established by the press release; not to drone on and on about how great your company is. Keep it short and sweet; including such things as:
• Your company's mission statement and history
• How long you've been operating as a company
• Your customer numbers and the demographics you're targeting
• Short biographies of some of the key executives within your team
• Any recent awards you've won or accomplishments you've achieved
It's wise to include snippets of any previous reporting on your company's activities; this not only demonstrates you're a newsworthy brand, but also provides a reference point to journalists to help them put together their latest write-up.
Be selective with your stories and who you send them to. Don't include any paid-for pieces, try to avoid stories which paint your company in a less-than-positive light, and if you've been covered by a publication in a certain niche, don't send that story to the publication's direct competitors.
This isn't essential for a press kit, but including a brochure, catalogue or prospectus booklet can supply reporters with more detailed information on your product offering if they need it. If your booklet is written for consumers, it will also give kit recipients a sense of your brand's tone of voice and the customers you're looking to attract.
Digital media
While a traditional print press kit can often be more effective at garnering attention than the more modern electronic press kit (or EPK), every modern journalist will still need digital files to work with – especially photographs and company graphics.
Be sure to include a digital copy of the materials in your kit, including any relevant image files in high resolution. These can be supplied on a CD, a USB drive, or online via a website URL.
When considering the digital files for your kit, It's smart to take advantage of the electronic medium and include materials which you can't replicate in print. What about product demonstration videos? Animated presentations? Perhaps audio content such as music files?
Product samples
Again, not an essential feature for your press kit – but definitely a useful one if your product is small enough, and particularly if the function or value of the product isn't clear until you actually use it.
Product samples are particularly important if your press release is centered around a new product launch. Reporters will always appreciate free stuff, and they'll be even more inclined to contribute to the buzz around the launch if the product offers a unique and engaging function.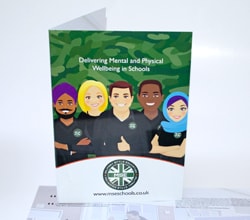 So, we have everything we need for a great press kit – but how to tie it all together?
That's where presentation folders come in. Not only do they serve the practical function of keeping all your kit materials together; but when tied with eyecatching graphic design and a glossy laminated finish, they'll also help you grab the attention of reporters from the moment they arrive in the post – enticing them to open up your kit and learn more about your company.
Presentation folders also offer extra printing space for additional kit literature. You could use the inside covers of a six-page folder as a mini brochure of sorts, or perhaps as a more creative way of presenting your company biography.
You can even use variable data printing to add reporters' postal addresses to the front of your presentation folders – and at Better Printing, you can rely on us to send them out to your mailing list for you.
Keep an eye on the Better Printing blog for more marketing tips, tricks and advice – and for a quote for your press kit printing project, call our team on 023 8087 8037 today!