Brochure Printing Finishes

A beautifully presented brochure quite literally speaks volumes about the products or services being promoted. It says more than just the text on the page. But to get this effect and to have this level of impact on the reader it takes more than just good text and plenty of images – the lasting impression is obtained through a perfect finish. With a number of brochure printing finishes to choose from, it's tough to know what's available and what's appropriate for your needs.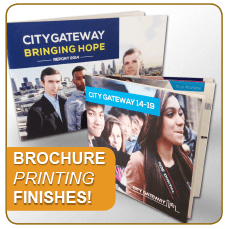 So here is our guide to some of the key techniques and what they have to offer. When you want your booklet to have real impact, there are two elements to consider carefully; the feel of the finish and the quality of the binding. Both can be achieved through a variety of ways.
The feel of the paper is partially down to the thickness – we would strongly recommend a thicker 300-350 gsm paper for brochures, especially for the cover page as it gives a better first impression but is practically more robust. But it's also down to the finish that is applied to it.
Lamination is a brilliant technique that can be Matt or glossy, and when applied to a brochure gives a wonderfully professional finish and helps it last longer. Other techniques can be applied to photographs and images to bring out their quality and emphasise them.
One such is Spot UV, where a varnish is applied to images to make them stand out and really draws the eye to them.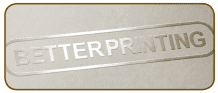 Foiling is another technique where a film is applied using heat and pressure to give high gloss and shine finish. It's perfect for metallic effects and can give your brochure a touch of elegance and glamour.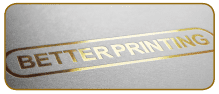 The binding of a brochure really turns a brochure from an extended pamphlet to a piece of marketing literature. A perfect binding style is highly appropriate for larger brochures that need to have the look and feel of book,
Whilst a wiro binding (sometimes known as twin loop wire or double loop) offers a great finish for academic binding, as well as quirky brochures that are smaller in size. These forms of binding are high in quality but can be expensive so a great cheaper alternative may be saddle stitch binding, where binding is stitched in to the centrefold of the brochure, or loop binding where the spine of the brochure has a loop design – perfect for smaller brochures or pamphlets that can act as inserts.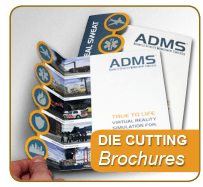 Ultimately, the key to deciding what finish and effects you need is to think about your     brochure, its content and its intended purpose and audience. This combined with your  budget should give you an idea of the kind of size, binding quality and finish you need  to  make your brochure a successful one.
 For more information and prices please click here to find out more.