Matt Lamination versus Gloss Lamination


As a business you will most likely be familiar with the benefits and advantages of using various paper-based marketing tools and techniques, from brochures, booklets, programmes and handbooks.
Needless to say as an avid follower of our weekly blogs you will also be familiar with the variety of options available out there to you when choosing the right paper based product for your needs. But one area that can be a bit of a minefield is the matt versus gloss question.
Perhaps not as age old as the chicken versus egg debate but equally as confusing.
That's why this week we're dedicating a little time and space to tell our customers a bit about both matt and gloss laminating techniques, what they are useful for and how they can be a useful 'psychological marketing' technique when used correctly.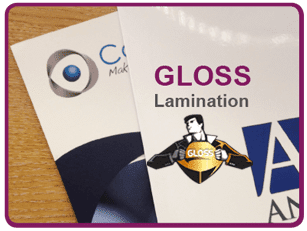 Laminating itself is a great way to provide added durability to the covers of books, booklets, programmes and paper-based marketing material. They not only give a product a bit of physical and characteristic weight but also ensure that the covers continue to look and feel clean and professional – resisting wear, tear and fading better than non-laminate. But then comes the option of matt or gloss.
Gloss laminate is fairly self – explanatory it I a high shine finish to a lamination product, that offers a modern shine finish that bright light can reflect off. One of the benefits of this effect is that it can give colours; particularly blacks a rich intensity and quality. This makes it great for lamination covers with photographic imagery that could benefit from light reflection. Front covers especially benefit from gloss lamination as do flyers with photographic images.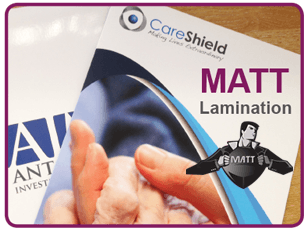 Matt laminate has a much more subtle lamination effect, with  less vibrant but classic finish. This effect is best used for a traditional product or service or when a modern finish is inappropriate. Similarly it can be a quite a useful lamination technique for pages with photos or images within a booklet or handbook that need to stand out from the rest.
Quite often laminated covers can be gloss or matt interchangeably so it may take a bit of thinking around the psychological and emotional impact that using the two techniques can have on the user or intended customer.
If your brand or business offers a modern, innovation based service or one that sells itself as being new and ground breaking in its approach gloss lamination works hand in hand with his. Gloss is also very useful for images or pictures where light reflection is key. Images of metals, natural light, or pop colours benefit from having high light reflection as they emphasise the point.
A matt lamination may be subtle but has a depth and character that goes hand-in-hand with classic sophistication. Matt lamination gives the illusion of a heavier quality so if your business is showcasing a product or service that reflects tradition, preserving reputation, luxury quality or natural surroundings the weighty illusion of matt laminate emphasises this.
If you need advice or guidance on what would work best for your marketing product, contact our friendly and helpful staff today for some ideas and direction. We also have a few other options such as scratch lamination – as used on our roller banners, that you may also find an effective option.