What is Spot UV?
Also referred to as UV printing, spot varnish and spot gloss – spot UV is a clear varnish which is applied to highlight certain areas on a page by creating a contrasting texture between a dull matt and a high shine gloss.
Spot UV can be applied in matt on top of a gloss background but it's more commonly applied as gloss on a matt background.
When gloss spot UV added to print the colours will be lifted and vibrant taking on a glossy 3d effect.
Typical uses for gloss spot UV are logos and on selected photographs within a brochure and for highlighting text on a business card but the possibilities are endless.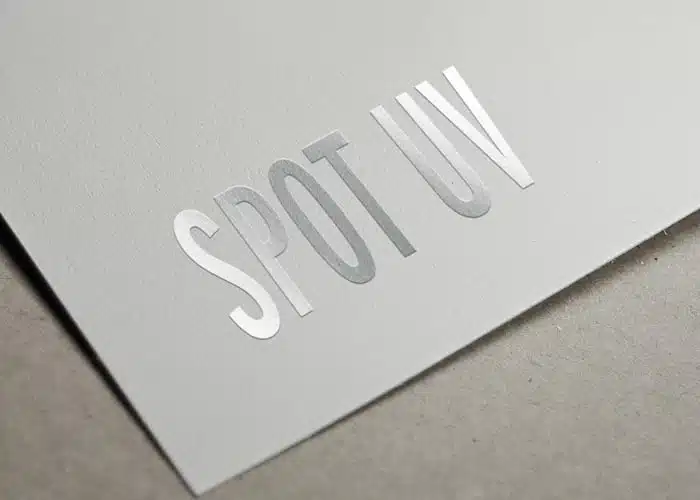 Blind Spot UV
If a more subtle effect is required then then blind spot UV is the answer. The UV varnish is applied to a plain background and has no specific print below it. Blind UV is a popular choice for business cards.
At first glance the business card may appear to be fairly ordinary looking but as soon as your customer picks it up they'll notice your logo shining out of the card as if by magic and disappearing and reappearing as the card is tilted.
Blind spot UV also works very well with text, eg, you could have your company name or message repeated over the entire surface of your printed item.
The best way to maximise the wow factor of the gloss spot UV is to apply it on top of a matt lamination.
Soft touch lamination (also known as velvet lamination) will give a truly luxurious look and feel to your printed item.
It's advisable not to add spot UV to unlaminated paper as it can be absorbed and the desired high gloss effect will be lost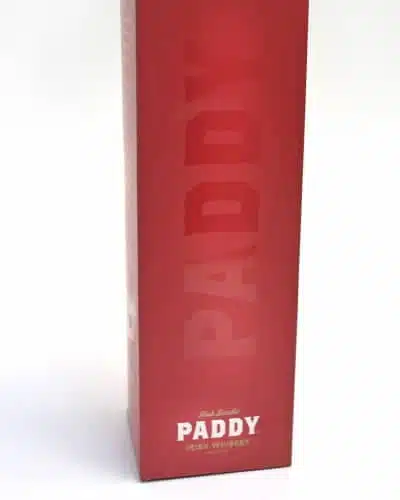 Blind Spot UV on Whisky Box
How is spot UV applied
Once the sheet has been printed and laminated a template is placed over it and it's fed into a machine which applies the polymer (which is a durable clear liquid).
The sheet is then instantly dried under infra red and UV lamps (hence the term spot UV).
Setting up artwork
Artwork is supplied in the usual way with the spot UV area supplied as a separate file. This file should contain only the UV area and nothing else.
Create an extra layer in your design tab and entitle it spot UV.
Select a clashing colour, e.g. 100% magenta and save it as spot UV.
In the first layers of your file copy the areas which will have spot UV and paste this on your new Spot UV layer in exactly the same position.
The spot UV layer should now be coloured magenta.
Select the Spot UV areas carefully.
The spot UV is designed to give contrast and highlight the UV area and the striking effect will be lost if it's applied to too many areas. For a business card for example it's common to add the UV to the printed logo. You could also liven up a plain reverse by adding blind UV with text or a pattern.
Think about the finishing process of your item.
Avoid adding the spot UV near to folds or trimmed areas as the varnish needs a consistent surface tension and will be prone to cracking and flaking if placed too close. 3mm is the minimum recommended distance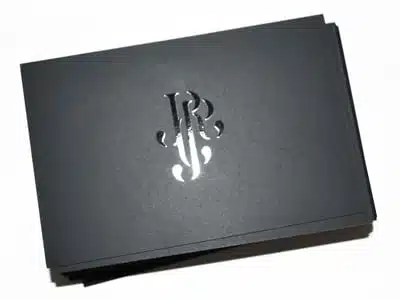 Spot UV on logo on business card