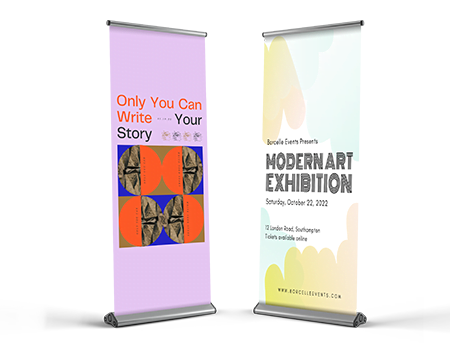 ---
Roller Banner Printing
FAQ's
What does "print ready artwork" mean?
In order to produce your banner, we require the artwork (the design that you want to be printed) to be provided to us. "Print ready artwork" refers to a file that has been correctly prepared, and is the final version of your design that you want printed. The artwork should be sent to us in a PDF format, with the document size set to match the actual size of the banner you wish to order.
Is it possible to print my personal artwork on banners?
Absolutely! Your own artwork and images can be printed onto banners. Each order for online banner printing is customized, with unique artwork for every customer.
Do you offer design services for the roller banners?
Yes, we offer design services for an additional fee. Our talented graphic designer can help bring your vision to life.
How do I store the roller banner stand?
To store the roller banner stand, simply retract the banner into the base and place it into the carrying case provided.
How do I clean my roller banner?
To clean your roller banner, use a soft cloth and mild soap and water. Do not use abrasive cleaners or solvents.