Scratch Card Printing
Create effective marketing campaigns or run competitions with scratch card printing! Create your own design, shape and size, and opt for overprinting to add an additional design layer to your printed scratch card. All available with free delivery.*
Please note: Scratch off latex is a form of ink that continues to harden after application. As such, scratch off latex has an average lifespan of 6 months, and we strongly recommend using your scratch products within this timeframe. We cannot be held responsible for the usability of these products after 6 months have passed.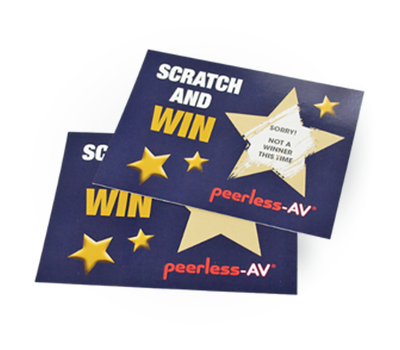 Scratch Card Printing FAQ's
What is scratch card printing?
Scratch card printing is the process of printing the design and information on scratch cards, including the hidden area that can be scratched off. This process involves printing on a special material that allows for the scratching off of the concealed area.
What are some common uses for scratch cards?
Scratch cards are commonly used for lotteries, promotions, and other marketing activities. They can also be used for fundraising, loyalty programs, and employee incentives.
What are the benefits of scratch card printing?
Scratch card printing can be an effective marketing tool, as it can create excitement and engage customers or prospects. It can also be a cost-effective way to promote products or services, as the printing costs are relatively low.