Showcard Strut Cards
Strut Cards, also known as Show cards are highly effective low cost POS product that can be easily displayed in any prominent position.
We have a wide range of Strut Card Sizes available From A6 – A0 and we can accommodate custom sizing or shape requirements too. Printed in full colour onto quality 2mm matt board (2000 micron) with an easy to use locking rudder strut attached to the reverse making them free standing, our custom printed Strut Cards & Show Cards, are competitively priced and come with free UK delivery*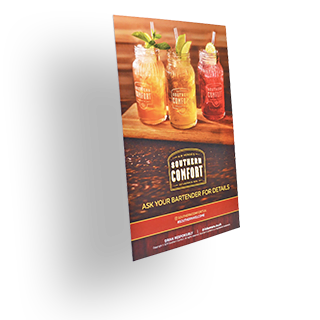 ---
Strut Card Printing
FAQ's
What are strut cards?
Strut cards are small, self-standing promotional displays used to advertise products, services, or events. They are often placed on shelves, counters, or tables in retail stores, restaurants, or other public places.
What printing techniques are used for strut card printing?
Yes, door hangers can be printed on both sides. This can be useful for providing additional information or making the hanger more visually appealing..
Are the strut cards environmentally friendly?
Yes, the strut cards are fully recyclable after use as long as you don't add a lamination.
Do you have pre-designed strut card calendars?
We have an in-house designer who can create your calendar for you.
The artwork template is just a rectangle?
This is just to give the available artwork area. You can layout your artwork however you like within the area.