X-Banners

If you are showcasing your business at an exhibition or event you want to be noticed over and above your competitors. A great way to do this is to have a professionally designed and crafted banner. Similarly if you are setting up a pop up presence or wanting to divert customer attention to a promotional area of your store, the perfect tool to do this is a stylish and robust banner.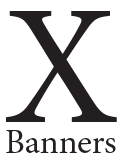 But there are a number of banner styles and options to choose from and whilst roller banners are frequently used there are other alternatives to roller banners.
So right now we're talking about the sleek yet practical option of x-banners.
These banners are crafted in a way that makes them durable, practical and yet attractive. The quality of the print is excellent as they are printed on UV machines on PVC banner material – making them durable, easy to clean, waterproof and reusable without losing colour or definition.
In terms of structure, they are assembled with relative ease as they are hemmed top and bottom with strong eyelets. The banner panels are quick and simple to attach on to the x-banner frame to enable it to stand independently.
(Please see pictures below).


The lightweight structure means that the X-banner is not only easy to use but also easy to move and transport – making it longer lasting than other visual marketing tools. The robust structure is standard so should you require an updated design or additional panels then you can replace panels with ease.



XBanners come in 3 types and a variety of sizes so whether you need a smaller mini x-banner to stand on your reception desk or an outdoor xbanner to stand outside, you can achieve this easily with either an Indoor X banner, Outdoor X banner or Mini X-Banner. Widths of 600mm and 800mm wide are generally 1800mm tall. However, wider panel sizes can be available too. With regards to the Mini XBanners they come in two sides A4 or A3.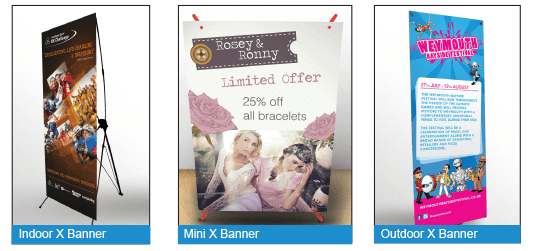 An added benefit of the X-Banner is its ability to be easily dismantled without affecting the quality and integrity of the structure – unlike some structures that can lose their lustre or visual appeal after a few uses. As x-banners are designed to be re-used they can withstand the disassembling process and can be easily stored with minimal fuss.
Indoor XBanners have similar looking structure to the mini x banner apart from the size and weight.
(See pictures below).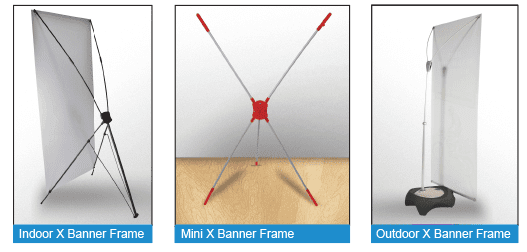 The Outdoor xbanner is slightly different, as its for outside use it has a weighted base which can be filled either with water or sand. (See images Above).
Whilst printed x-banners truly are a viable banner option with plenty of benefits for use, it is worth advising that your banner is only as good as the professional company designing, printing and supplying it to you. Having a professional and reliable company like us, that can advise and take you through the design and size options is a must, and whilst x-banners are great value for money they are still a marketing investment that requires a considered approach.
If you are interested in any of our X Banner printing services then please click the relevant Banner below to find out our prices etc.