Why Eco Friendly Products are a Viable Marketing Option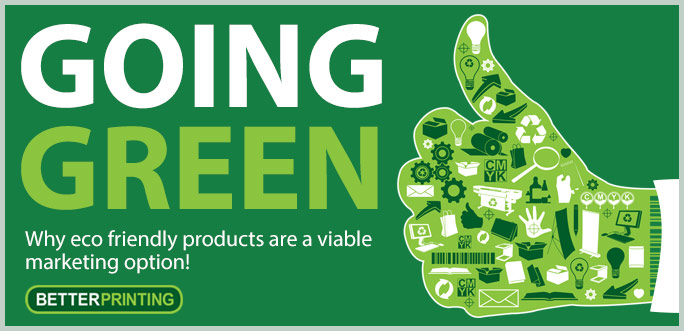 This week Better Printing is going GREEN.

We know it's not always easy staying eco conscious when you're trying to promote your business. When you need to get your name out there, sometimes thinking about the environmental impact of your advertising goes out the window.

'It's just too expensive', 'the quality isn't as good' 'emailing is more eco friendly'
Are likely to be just some of your thoughts. Until recent years, companies had to make the difficult choice between what was right for their business and what was right for the environment.
Not any more!
Pressure from organisations such as Forest Stewardship Council (FSC) and the development of new vegetable based materials has lead to the advent of many high quality alternatives. Better yet, with the growing demand for recycled and environmentally friendly printing, these products are increasingly price competitive.  So the difficult choice is no more.
At Better Printing we have a range of eco friendly products to help you do your bit for the environment. Here are our top 3 picks!
1.    Biodegradable PVC Banners
Our biodegradable banners are an eco-friendly alternative to traditional PVC Banners. They're intentionally engineered to deteriorate once in a landfill setting so you can order them guilt free. Plus, with vibrant colour and high-resolution printing they look fantastic.

2.    Recycled Brochures
Our 100% recycled brochures are the perfect solution for eco friendly, superior quality brochures. We're experts when it comes to printing with recycled materials, so we can promise your brochures will look and feel great.
3.    Recycled Business Cards
Our Recycled Business Cards are printed using FSC certified 100% recycled stock. The perfect solution for guilt free networking!

If these products aren't quite what you're looking for, we've got good news! Better Printing has a range of eco stocks and recycled paper so all you need to do is choose the product you want. You can promote your business and save the world, one product at a time.
When you choose to print with Better Printing you're choosing a company that's dedicated to minimizing its environmental impact. For more information on our Eco Policies see here.
Remember Better Printing is always here to help. If you need advice or guidance on eco friendly printing just contact our friendly and helpful staff today on 023 8087 8037 or email: info@BetterPrinting.co.uk