What Does GSM Mean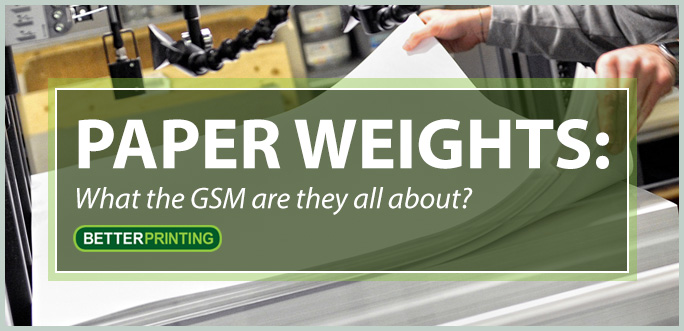 Here at Better Printing we've put our heads together to give you the low down on paper stocks and advise you on the best weight for your product.
So here is our insiders guide to paper weights. 
Lets start with something simple: GSM – what exactly does it mean?
GSM stands for Grams per Square Meter, and is the standard unit of measurement for all paper and card stocks. The higher the GSM the heavier and (normally) thicker your substrate will be. To give you a reference point, the average piece of printer paper is normally around 100gsm.
Strange as it sounds different paper weights can convey different messages and affect the way your product and, by extension, your business is seen.  Generally speaking the heavier the paper weight, the more high quality your product feels. However printing a magazine or booklet on a high-gsm stock would be impractical- the extra weight would force the pages to spring open and its unlikely the magazine would lie flat.
Before you panic below are some general guidelines you can follow to make choosing your paper weight easier.
What paper weight is best for your product?
For business cards we recommend a stock between 350gsm and 400gsm. Choose anything less and you risk being stuck with flimsy business cards that wear easily and thus reflect negatively on your business.
We recommend between 150gsm and 200gsm. For posters you need to get the right balance. A high-gsm stock isn't practical as the greater the weight the more likely the poster is to fall down, but if the stock is too low the poster will tear easily.
Company Document Folders:
We recommend between 350gsm and 400gsm. Like business cards your folders need to make the right impression and a heavier stock gives a more quality feel. In terms of practicality your folder will be used to hold different items, from documents to invoices and DVDs, and will be regularly opened and closed. Therefore you need a heavier weight stock to stop your folder falling apart under the stress of its contents and repetitive usage.
Brochures, Booklets and Magazines:
We recommend a thicker cover: 300gsm with inside pages between 120-170gsm. Its important to remember that multiple pages printed onto a heavy stock makes it difficult to make a brochure lie flat once opened. A heavier cover with lighter inside pages gives you the luxurious look and feel you want without compromising the functionality of the brochure, magazine or booklet.
Business Stationery:
For letterheads and compliment slips we recommend between 100gsm-140gsm. Again your business stationery is a reflection of your company so you need your paper to feel quality. However as the function of your business stationery is generally for communications rather than for promoting your company, using a heavy stock would be overly expensive for little benefit.
Need more advice on what's right for your product? At Better Printing we're always here to help. Just contact our friendly staff today on 023 8087 8037 or email: info@BetterPrinting.co.uk and they'll be happy to help!