Valentine's Day
Love is in the air once again – and now's the perfect time to show your regular customers how special they are to you.
All joking aside, it's important to reward the loyalty of your customer base. After all, it's more expensive to acquire a new customer than it is to retain an existing one.
And if you go out of your way to make customers feel valued and special, they'll be more inclined to give you repeat business and recommend your company to their friends and family.
Here are three ideas for showing your affection for your customers on Valentine's Day!
Send them a Valentine's card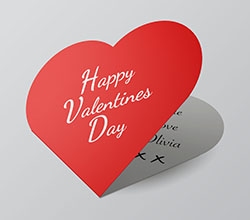 Let's start with the classic way to celebrate Valentine's Day. Customers will appreciate the novelty of receiving their own personally addressed greetings card through the door – especially if you use variable data printing to add a custom message to each one in your print run.
There's no need to go overboard with a sappy message – just tell your customers that you appreciate their business.
(And with Better Printing, you can even rely on us to send out each card to each of your individual customers via nationwide and international courier.
Give them an exclusive offer or discount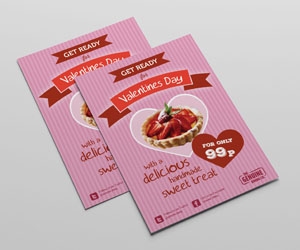 One way to make customers feel special is to give them access to an offer they can't get anywhere else.
Why not place an exclusive voucher code inside your card so customers can get a discount in-store or online? You can also make each card's code unique via variable printing and give every customer in your mailing list their own personalised offer.
Your offer could even be themed around Valentine's Day itself. Perhaps your discount could be a two-for-one deal, or money off a product in your range that couples might enjoy together. (Hey, get your minds out of the gutter!)
Invite them out on a 'date'
Okay, it won't be an actual date – but sending your best customers an invitation. to an exclusive event or opportunity is a quirky reward that'll definitely get people talking about your brand.
It's also a great way to humanise an ecommerce or online-only business; bringing the experience of being a customer into the 'real' world.
What should your 'date night' entail? Well, you could invite your most loyal customers to try out your new products/services earlier than anyone else, or partner up with other local businesses and give your customers tickets to a special corporate hospitality event.
(For example, you could start a romance with a local independent cinema and whisk your customers away on an intimate couples' movie night.)
Or what about an event your single customers can enjoy? Perhaps you can play Cupid and host a group social night for lonely hearts to meet one another.
Hosting events is an investment, of course – but it can be a powerful means of rewarding loyalty and earning some positive word-of-mouth advertising while you're at it.