Twist & Lock Leaflet Dispensers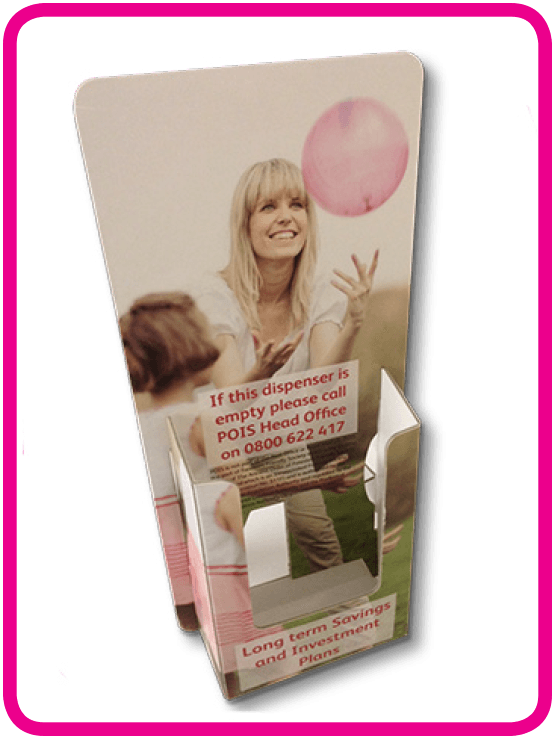 While this may sound like a complex mechanism for robotic leaflet distribution, we can assure you the Twist and Lock Leaflet Dispenser is a simple and ingeniously designed leaflet holder and dispenser that can hold and display your leaflets, easily and cost-effectively. Commonly seen at points of sale in shops and offices worldwide, they provide a visually impactful method of dispensing marketing material.
Whether you are looking to display leaflets at your own premises, at internal points of sale or to distribute marketing material to other businesses and local amenities, the Twist and Lock Leaflet Dispenser is a neat, compact mechanism that looks extremely professional – helping your marketing collateral to truly stand out from the crowd.
Twist and Lock Dispensers come in a variety of sizes and styles, although sizes suitable for table top or desk top display are most common. They operate simply by having a robust holder that clicks easily into the surround. Both parts can be designed in line with your corporate branding and to hold key information about your business, products or services. The Twist & Lock Leaflet Dispenser is supplied flat, ready for quick and easy assembly, without the need for adhesive.
Designing your dispenser properly is very important. While the template can be standardised – and a professional template is best – the visual desi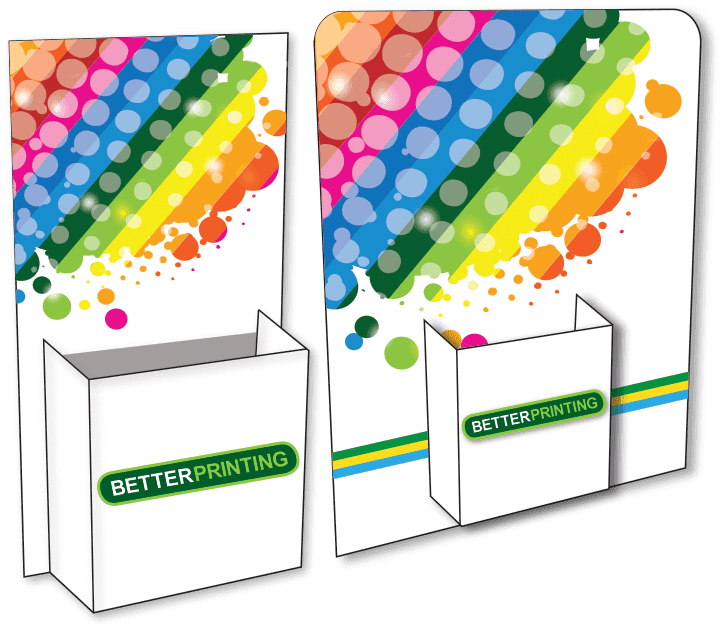 gn can be tricky. Here are 3 helpful hints to consider when designing your dispenser:
1. Make it last – Choose timeless wording. When you're writing the text for the dispenser itself, think about how you intend to use it. Text or graphics that identify specific promotions or events, or feature the names of people, can be very useful in the shorter term, whereas those that contain more generic branding information are more versatile, allowing them to be used more frequently and for a longer period of time.
2. Keep it snappy – Don't overwhelm the reader with text. Your leaflet will provide most of the information, so don't be tempted to try and use every inch of the dispenser itself to duplicate copy. A few lines of key information, relevant contact details and your website's URL is enough to make sure your dispenser remains useful even when the leaflets have run out!
3. Brand it! – It may only be a dispenser to hold your marketing material but be sure to refer to your company's brand guidelines when finalising the design, colours, fonts and text. After all, the Twist and Lock Leaflet Dispensers will become an important part of your marketing collateral.
While the capacity of dispensers varies depending on the type of leaflet or the thickness of the paper stock, a standard Dispenser can hold approximately 31 x 6pp folded DL leaflets on 200gsm silk paper. DL leaflets are the tall, slim, folded leaflets of a similar shape to DL envelopes. If you prefer to have your leaflets at a different size or on a varying thickness of paper, simply contact us today and ask our helpful staff for advice on Twist and Lock Leaflet Dispensers to meet your specific requirements. Knowing the capacity of the dispenser you choose will help you to decide how many leaflets to order, too!