Printed Stickers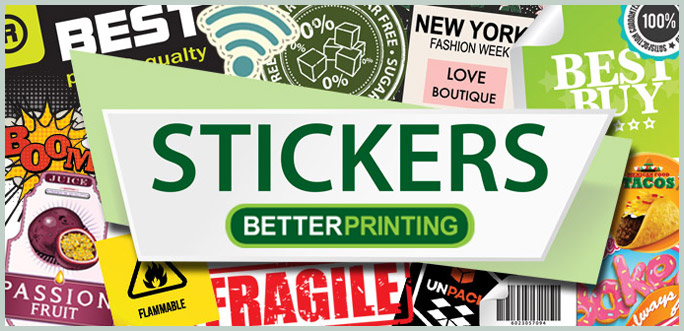 As the recent and incredibly effective advertising campaign for Channel 4's new show Humans has proven, it's becoming harder and harder for advertisers to make an impact in a saturated marketplace and  many companies are resorting to extreme lengths to grab their audience's attention. Channel 4 even went as far as setting up a website and shop front in Regents Street for 'Persona synthetics', paying actors to wheel 'cyborgs' through London's streets.
So what can you do if you, unlike channel 4, don't have a handy £1 million advertising budget lying around?
We're going to let you in a little known fact… when it comes to branding stickers are the ultimate covert tool.
With sticker printing leaving a lasting impression on your customers is easy. Stickers or decals are an affordable way to convey key messages, label your products and emblazon walls, floor graphics and windows stickers with your branding.
With Better Printing designing an effective and provocative custom sticker has never been easier. With die cutting any shape is possible, metallic foiling and spot UV finishing techniques will help your sticker stand out and if you choose to print on self-adhesive vinyl your stickers can be stuck just about anywhere.
If you're a business with a conservative (small) budget then jumpstart your marketing with custom stickers.
Need some ideas to get you started?
Packaging:
By using stickers with your logo to brand your packaging you get both brand consistency and synchronicity across every product you send out.
Product labels:  
With stickers it's quick and easy to indicate which cakes contain nuts, which products are endorsed by celebs or just that your new website is finally up and running.
Engaging children:
Remember when you were a kid and going to the dentist was only made bearable by the prospect of a sticker (and maybe a sugar free lollipop) at the end of the ordeal? You can emulate that same level of excitement with your own custom stickers. If your brand is all about children, stickers are a great way of encouraging them to engage with your products.
Teaser Ads:
The best way to garner attention? Take a leaf out of Channel 4's book and start a covert promotional campaign. A tantalising question or provocative image printed on a sticker and displayed in a public place is guaranteed to increase exposure. Remember, the more curious your audience is the more likely they are to start Googling your business or brand to solve the mystery of the sticker.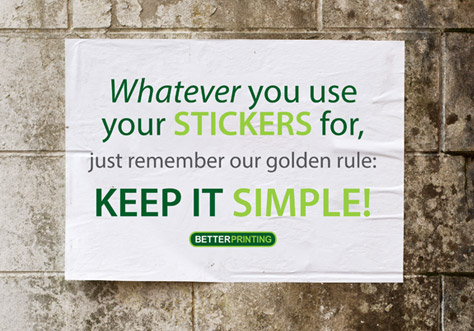 The power of stickers lies in their simplicity. So keep text short and the images clear and you'll be gaining custom in no time.
Remember Better Printing is always here to help. If you need advice or guidance on what would work best for your stickers, just contact our friendly and helpful staff today on 023 8087 8037 or email: info@BetterPrinting.co.uk