Show cards & strut cards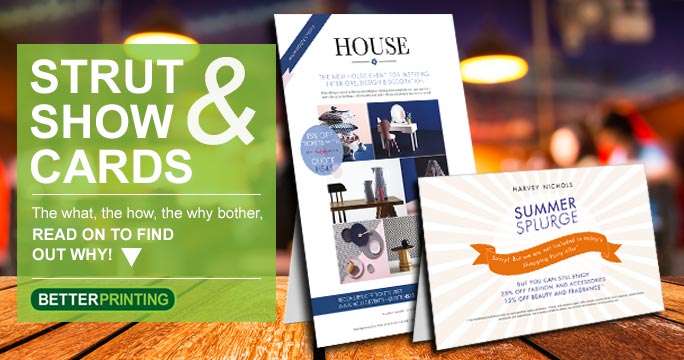 In the age of digital advertising, with flashing lights and more bells and whistles than you ever thought possible, traditional P.O.S marketing methods have been somewhat left behind.
At Better Printing we're all about the reinvention of Show cards & strut cards. We think it's about time you started thinking outside the box and capitalised on the power these cards have to offer.
Not convinced? Here are our top 5 reasons why Strut Cards should be top of your list.


Show off your Social Media
Use your strut cards to highlight your social media and encourage customers to engage with your story online. If you've gone to all the trouble to create a solid brand with a strong social media backup then enticing customers to interact with your social media should be top of your priorities list. Include a hashtag that's part of a wider advertising campaign or encourage people to 'check in' online and do the promoting for you.


QR codes, special offers and big prizes
Everyone loves the feeling of getting something for free- especially if your target audience is a bunch of permanently cash strapped students. Strut cards are an ideal platform for promotions or special offers. Use strut cards to link customers to unseen online material, special offers or free give away offers only accessible through printed QR codes.


Prominent Positions
The best thing about strut cards is how easily they can be moved about. Strut cards are designed to be placed at the point of purchase, to catch customers' eyes and tempt them into a last minute buy. A strut card can't be switched off, you can't turn the page, and you can't switch channels- making them fairly hard to ignore.  Because of this strut cards can reach a much wider audience than an expensive T.V advert and make a genuine difference to your number of sales.


Get creative
These days any form of advertising has to pack a punch to grab attention from smart phones and the pull of facebook or Instagram. Strut cards allow you to get creative. Gone are the traditionalist views, and retro printing technology that meant strut cards had to conform to square or rectangular shapes. Use controversial statements, peculiar shapes and all the colours of the rainbow plus some glitter if you have to. The fact that you can place a card in the centre of the table, next to the till or at the bar means they're sure to catch the eyes of customers.
Cost effective
Our number one favourite thing about strut cards? They're incredibly cost effective. For the price of one print ad in a popular magazine you could print 100s of strut cards (probably). With the right printing company you get a high quality, glossy finish and a card that's sturdy enough to survive months of accidental drink spillage.
That's all folks!

We hope we've showed you that strut cards are a great way to advertise your business and given you a few ideas about how to use them to interact with your customers. We now offer A5, A4, A3, A2, A1, A0, Bespoke Shaped Strut Cards. To see our whole Strut card range then click here.
Remember at Better Printing we're always here to help. Just contact our friendly and helpful staff today on 023 8087 8037 or email: info@BetterPrinting.co.uk and they'll be happy to answer any questions you have.