Roller Banner Printing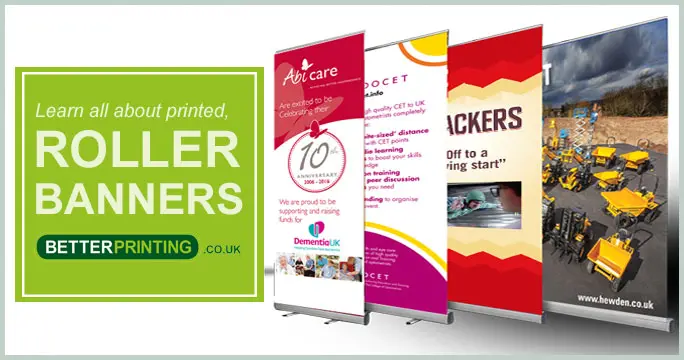 Roller banners also known as Pull up banners or roll up banners are among the most useful and economically-built handy exhibit solutions that appeal and captivate the customers' interest in the best creative way.
When you spend exorbitantly in your marketing campaign, that which you desire is not only more exposure and awareness, nevertheless higher ROI and better conversions as well. And that is what roller banners are all about.
Not only do they add design to your display advertisement, but additionally instil an interest among the potential customers to find out more about you, which lead to improved conversions. Roller banners are manufactured from sturdy materials so they are never worse for wear. Use them multiple times and they are going to appear just like new each and every time.
Roller banners are simply ideal for any and every single form of display campaign; in seminars, conference rooms, marketing, wedding events and training centres among others. They are in fact the ultimate promotional tool when it comes to small and large businesses as they effectively draw huge customer base, promote brand awareness and recognition. The amazing thing about these banners is that you don't need any tool to set them up. Whenever a display is required, you only need to extend its body from the roller cartridge with no extra support to achieve this. However, when you spend money in roller banner stands, ensure that you invest in something valuable.
FACTORS TO CONSIDER WHEN PURCHASING A ROLLER BANNER
Types of Roller Banner Stands
Based on your marketing needs and promotional space, opt for a roller banner that suits your preferences. With different types of Roller banners in the market today, you will certainly find one that matches your marketing needs. BETER PRINTING roller stands are retractable, self-standing and easy to erect. In fact they are the ideal solution for any display.
Quality
This is one factor that should be considered while opting for a roll up banner. Regardless of the brand you choose, just select the best quality ones that will provide extreme sturdiness, style and likewise, add an excellent value to your marketing campaign. The print quality of BETTER PRINTING Agfa Anapurna M2050 modern printing machine is high-class with non UV fade links
Materials
This is another factor to be considered when purchasing a pull up banner. The two best materials for roll up banners used by BETTER PRINTING include PVC and Lightstop. The PVC materials are printed using non fade inks while the Light-stop material has a lamination added to it for extra protection. In addition, BETTER PRINTING the Light-stop press makes use of a Canon image PROGRAF iPF8300S Wide format printer.
BETTER PRINTING PVC roller banners are the lowest cost roller banners, and can be used for
Outdoor Roller Banner
Large Extra Wide Roller Banners
Large Extra, Extra Wide Roller Banners
Also, the BETTER PRINTING   Light-stop roller banners can be used for
Roller Banner – Mid Range
Roller Banner – Premium
Roller Banners – Desktop
Double Sided Roller Banners
Graphics design service
Intelligent marketers will opt for a brand in roller banners which comes as a total package of top-quality digital print graphics display, strong and durable banner stands, halogen lights and complimentary transport case. Top quality graphics design makes the display look more vivid and invigorating. Our experienced design team will be glad to assist you with your banner designs.
Cost
Cost is among the most vital factors to be considered in purchasing a roller banner. Generally, these are reasonably priced, and provide an incredible money value to the customers. You can explore diverse options in roller banner stands and go for the one that best fits into your pocket. The prices of roll up banners on BETTER PRINTING website range from £32 to £233.
In view of these factors, buying roller banners from a reputable online firm is very important. With its rich industry experience, BETTER PRINTING introduces its innovative range of Roller Banners that are printed and completed all in-house. Our range of roller banners, exhibition stand and pop-up products makes us one of the leading wide format suppliers, and it is all down to our experienced staff and distinct printing presses. We have 9 amazing Roller Banners on our site to suit every of your requirement. From 2m wide banner stands to 3m tall roller banners, we have got the complete solution with regards to roller banner printing. Our roller banners are quick and easy to pull up and are lightweight for easy transportation. With bulk orders, you will definitely save for yourself some cash for other important tasks. For a full range of our roller banners, click here for comprehensive details.
When you've got something to say and you're not afraid how loud you shout it, our outdoor roller banners will help get the word out. All our outdoor roller banners are printed in full colour using UV fade resistant inks. They are the perfect marketing tool to accompany you to any outdoor event.
When you think about easy promotions there can be nothing better compared to buying quality innovative roller banners. Talk of quality, think of BETTER PRINTING!