Proofing: Are you ready to pass go?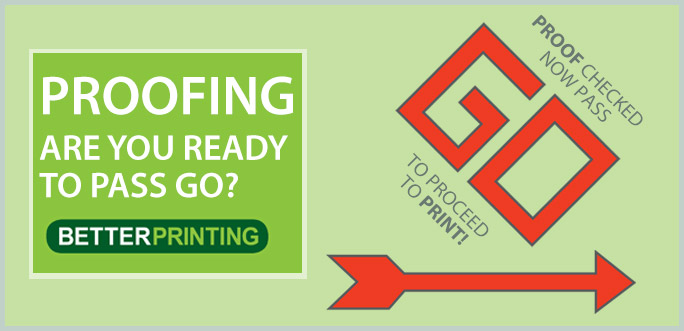 Are you ready to pass go?
I am sure many of you won't be surprised to hear us say that proofing is perhaps the most important stage in the print production process. A proof is the final check point before you pass Go and collect 200.
It's a sample of your finished product and your last chance to avoid any nasty surprises. Trust us, there's nothing worse than opening your delivery of your perfect product brochure and realising you spelt it 'you're' not 'your'. Whoops.
So get out your fine-tooth comb and check your proof thoroughly for grammatical errors, typos and layout mistakes. Remember, once a proof is approved it's game over; any mistakes will be there to stay and only a costly reprint can save you.
Here's a little guide to the 3 main types of proofs to help you understand the ins and outs of the proofing process.

PDF Proof:
A ripped PDF proof is the best way to ensure any mistakes in the content or layout of your product are discovered and corrected before moving to the print production process.
At Better Printing we're dedicated to creating print to be proud off. That's why we offer a free proofing service- sending you a PDF proof absolutely free with every order.
There are limitations with PDF proofs however, particularly when it comes to accurately matching colour reproduction. On a monitor colour is calibrated in RGB- shades of red, green and blue are mixed to create colour images. Whereas lithographic print presses use a CMYK colour management system. Artwork viewed in PDF form must be converted to CMYK when printed; the colours may thus be altered and the finished result will look different. Furthermore the lighting conditions in a room where the monitor is may also have an impact on how the colours appear on screen.
So when checking your PDF proof for the final time be aware that colour reproduction may change when you receive your final product.
Hard Copy:
Most printers, including Better Printing, will also create a Hard Copy proof for you on request. With a hard copy proof we digitally print a mock up of your finished product.The proof is colour calibrated and printed on silk paper using an inkjet printer to give you a clearer idea of the end product.
When printing on our Litho presses we create a press calibrated digital proof. If printing on our digital presses, we can create you an exact print on your chosen paper stocks. However if your product is to be printed litho on a different substrate, for example uncoated stock, there will still be differences in the colour reproduction.
Wet Proof:
A wet proof is an exact version of your finished product. We print your product on the same print press and substrate with any finishing options you may have ordered. The colour reproduction is therefore 100% accurate.
The only limitation with a wet proof is that it's very expensive as the printing plates have to be created. Therefore we would only recommend ordering a wet proof for high profile, high quantity orders.
If you have any questions or need advice remember at Better Printing we're always here to help. Just call us on 02380 878037 or email info@betterprinting.co.uk and one of our friendly team will be glad to help.