Promotional Possibilities with Large Format Printing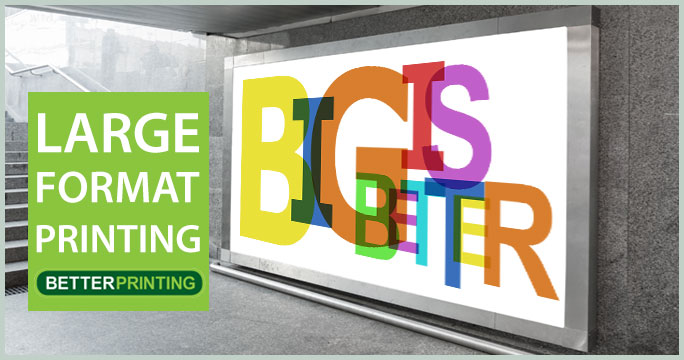 Bigger is Better: Promotional Possibilities with Large Format Printing
With the latest developments in print technology, large format printing is no longer reserved for companies with vast marketing budgets. Posters, banners, signs and exhibition stands are now all quick, easy and affordable to print for any business.
So this week, we've decided it's about time to start thinking BIG!
---

Make a BIG Impression
If you need your message to stand out, large format printing is the way to do it. Large format displays are vital for increasing brand recognition. Whether it's outside your office or above your exhibition display, a huge image of your company logo and tagline is bound to get you noticed and your company remembered.
Large format displays are also perfect for creating a buzz around a new product or promoting special offers and events. For maximum exposure, try lamppost banners to advertise your next event or use printed Vinyl floor stickers to transform your floor into valuable advertising space.
Or why not use large format printing to brighten up the office or working environment? If your office is public facing, a vibrant poster that reflects your brand and key message will entice customers and raise brand awareness.

---

See the BIG Picture
With Better Printing, creating a dramatic, attention grabbing display is easier than you might think. Don't just assume posters and banners are your only option; there's a whole range of products guaranteed to have a huge impact:
---

Getting Ready to Print BIG
We know the first time you decide to try large format printing can be a little overwhelming; there are hundreds of products to choose from and a lot more space to fill effectively. So here's our mini guide to help soothe your nerves.


Top 5 Tips for Large Format Printing:
In or Out?:  First thing's first, decide whether your large format display will be for indoor or outdoor use as this will have an impact on the type of product you choose and the material (or substrate) you print on.
Get Measuring:  Although it sounds like common sense, you first have to measure the space that you need a design for. You may be surprised at just how big the space is and thus how big your banner, poster or display stand will need to be.
Keep Text to a Minimum:  Large format printing is less about the text and much more about creating a striking design that can be seen and understood from a distance. So if you're using text, keep it short and snappy and make sure it's large enough to be read at a glance, and from a distance.
Images are important:  Images are crucial if you want your display to stand out. Make sure you save your images at high resolution (300dpi is ideal) so they look just as good onscreen as they do on the finished product.
Test it out:  Try as you might, it can be all too easy to miss small errors when checking your artwork onscreen. Sometimes these errors will only become clear when it's too late – costing you money. We recommend always printing a small scale proof of the product first, so you or a colleague can properly proofread and check it, away from your computer.

P.S. Remember, at Better Printing we're always here to help. So if any aspect of large format printing is getting your head in a spin, don't stress.
Just call us on 02380 878 037, and one of our friendly team will be happy to guide you through the process.