Print Proofing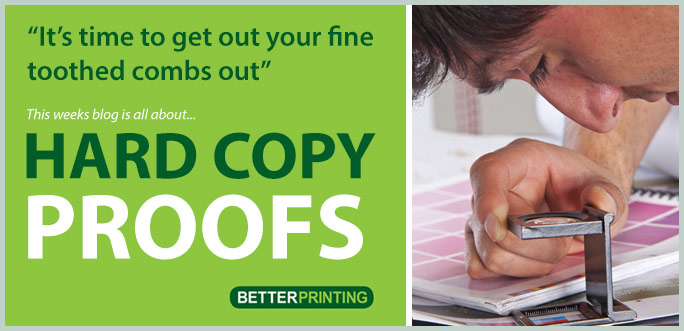 This week we're talking about the benefits of hard copy proofs.
What's the golden rule of printing? Check your proofs thoroughly before going to print! There's nothing worse than opening your delivery to find your company name is spelt wrong or the colour reproduction doesn't match your branding. Nightmare.
So how can you avoid a bad job and wasting your money?
Asking for a hard copy proof and thoroughly proofreading to avoid grammar or spelling mistakes is, hands down, the best and most economical way to ensure your finished products turn out exactly how you want them. Most printers, including Better Printing, will create a Hard Copy proof for you on request.
What is a hard copy proof?
A hard copy proof is a digitally printed physical reproduction of your printed product. The proof is colour calibrated and printed on silk paper using an inkjet printer to give you a clearer idea of the end product.
Why is a hard copy proof better than a soft proof?
A soft proof is just a printer's way of saying a PDF copy of your final design. If all you want to do is check for content errors a soft proof is the way to go and they're free. However there are several limitations. Viewing your proof on a monitor means it may be hard to envision the layout of the finished product, particularly if your product is to be folded. More importantly with a PDF proof checking for accurate colour calibration is nigh on impossible.  A monitor uses a RGB colour calibration system, displaying colour in shades of red green and blue, but lithographic print presses use a CMYK colour system. The colours therefore may be altered in the end product.

So if your product is to be printed digitally on silk stock, a hard copy proof will give you a near perfect reproduction of the final product.
At Better Printing we will even assemble you proof for you so you know exactly what you're getting!
If you have any questions or need advice remember at Better Printing we're always here to help. Just call us on 02380 878037 or email info@betterprinting.co.uk and one of our friendly team will be glad to help.