Presentation Folders Printing

When you attend corporate events and marketing functions with networking opportunities, nothing looks more professional than to hand out professionally designed and printed presentation folders, conveniently and efficiently filled with all of the core information about your business its products and services. Even better still, are those business folders which allow a level of storage for other key documents and potential marketing merchandise.
But, whilst well-produced printed folders add value and prestige to your business, a poorly designed and printed one can detract from it.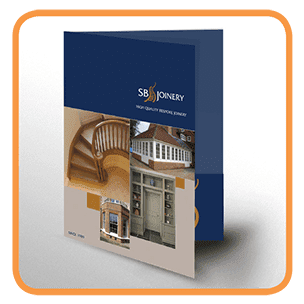 Our Better printing folders are a speciality, that's why this week, we at Betterprinting are using our knowledge and expertise to tell you a bit about what presentation folder options we have and how they can benefit your business.
Printed folders come in various types, sizes and finishes, offering a range of different effects and have subtle differences in terms of what they are suitable for.
Portrait folders, especially A4 are excellent for corporate workshops or meetings, where written notes and information is to be stored loosely inside the folder which is also written in a portrait set up – to avoid the shuffling of papers once in use.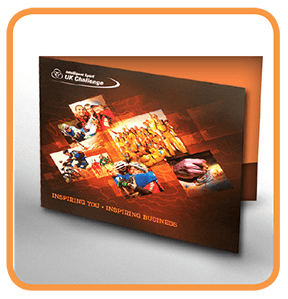 Landscape folders however, are better for product showcasing – especially where you have beautifully defined landscape imagery to present. At Betterprinting, all of our Landscape folders are produced on our lithographic machine and can be printed in full colour.
Whether you opt for a handy A5 or full impact A4, they will be printed on 350gsm quality silk giving your folders a luxurious, professional look and feel.
We would advise that you do not select any lower than 300gsm stock on a landscape folder, as it will most likely not be able to support the promotional material you require sufficiently.
If you need a folder to hold a set of documents securely, then a great option would be the interlocking folders, for which we at Betterprinting have a
fantastic budget option. They don't use glue or adhesive but have interlocking tabs created through die-cutting that provide secure closure. These are ideal for storing multiple items.
When it comes to obtaining a high-end professional finish to your business folders, the texture and feel can be very important. At Betterprinting we offer a fantastic range of digital folders, which are printed on our High quality Digital Press. The folders themselves are printed on matt stock with a laminated outer. Highly defined and quality finish that really gives a wonderful impact on your customers.
We would recommend not using anything lower than 300gsm for digital folders as the folder can become too weak to store your documents.
At Betterprinting we have simply an overwhelming range of presentation folders for you to choose from.
Where digital printing is great for shorter runs, we also offer litho long run folder options, for larger projects, which allow our stunning colour printed folders to be printed en masse quickly and efficiently. And to help you with your folder design, should you want to create your own personalised folder, we have a number of template designs free for you to download. Should you then require advice and assistance in how best to use which template,  simply give us a call and our friendly team will be more than happy to help.