Our New Machine: Agfa Anapurna M2050


We are positively delighted to formally introduce you to our new best friend. Well, when it comes to print machinery it comes pretty close. It is of course our Agfa Anapurna M2050.
Whilst we appreciate it doesn't have the most catchy names, this UV-curable inkjet machine is one of the best purpose built printing machines available on the market, making for a sound investment and evidence of our ongoing commitment to provide the best in print quality.
"What's so great about it?" we hear you ask. Plenty! That's why this week, we thought we'd harness our thrill and excitement at taking delivery of this state of the art machine into a blog entry that tells you all about it: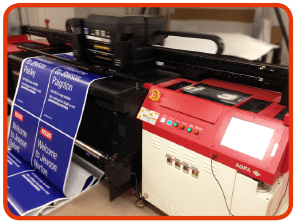 Speed – The essence of the Anapurna M2050. The system has the ability to produce output in 6-colour mode at an incredible 53m²/h. With this kind of faster print speed we can get through more print jobs in less time, reducing the turnaround for our customers' print jobs while maintaining – and even exceeding – expectations for high quality print.
Feed – The ABF or 'automated board feed' is a feeding system that enables continuous throughput with minimal disruption. Essentially, we can position the next set of rigid boards whilst still printing the previous job. With up to 4 boards at a time and a variety of
8 board sizes, this enables us to print more and quickly so your
jobs can be turned around quickly and efficiently.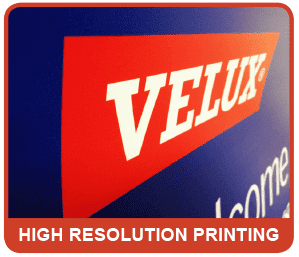 Wonderful whites – It may seem like a strange exclamation but celebrating the fact that the Anapurna has white ink capability on-board is a big development in the printing world – enabling white printing on dark backgrounds (substrates) and providing the possibility for printing on transparent surfaces. This exciting development means that we can take on a range of new innovative and exciting print projects for or customers.

Quality printing like no other – The system has eight 12 picolitre heads which guarantee printing of good solids, and fine text reproduction as small as 6pt. This can all be achieved through excellent tonal rendering and low ink consumption, providing less saturation of ink and a more cost effective project for us and our customers.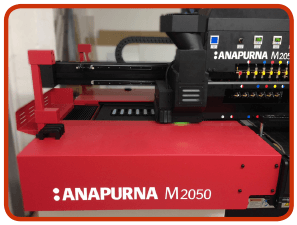 Vacuum that's cleaner – The Anapurna M2050 has an automatic vacuum system that delivers an equal vacuum but only on that part of the printer bed where the media is actually being transported, irrespective of whether the media is rigid material or a roll. This clean and flawless finish provides accuracy and quality every time.
Indoor and outdoor resistance – The Anapurna M2050 is designed to produce exceptional quality indoor and outdoor print jobs in wide format on a huge range of media. This means that the quality of output is robust enough for any marketing materials, making them resistant to wear and tear as well as weathering and multi-use.
With this in mind, we can offer a whole new brand of service and style of output at an even more efficient rate – so we're very excited about it! Plus, you get a much Better Print finish to your printed items.