Localised Marketing Your Ticket to Success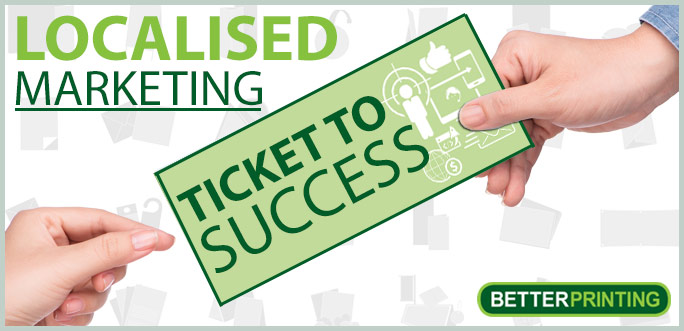 In days gone past localised marketing was the only way for companies to drum up interest in their respective businesses. Thanks to the internet however, the global marketplace has never been more accessible; now even the smallest of companies can go global with their customer base.
As exciting as that is, at Better Printing we're determined not to forget about the customers that are right outside our front door.
That's why this week we want to talk about the importance of local marketing.  Here are just a few reason's we think localized marketing is so important:


Establish positive customer relationships
Whether you're a large international corporation or a small one site operation, a customer recommendation is worth its weight in gold. Meeting people face-to-face is essential to building a positive reputation your customers will respond to; a brand is instantly more accessible when represented by a friendly face.


Increase repeat custom
Establishing strong relationships in the local community will also result in repeat business. If companies take advantage of this by offering discounts or free items as a 'thank you' for customer loyalty, this feeling of goodwill will only enhance customers' impression of your business and increase the likelihood of their repeat custom.

Co-operate with other local businesses
Working alongside local businesses in complimentary sectors can increase profits for both of you.  By advertising together and recommending each other's businesses when clients have a need for both services, you can mutually boost business with minimal effort. Try offering a discount or money off voucher for customers who employ both your services.


More effective marketing
Advertising is expensive. There's no way around it. So you need to maximize the impact of your marketing from the word go. By targeting your marketing towards certain demographics in your local area you can create relevant content that inspires custom and creates loyal customers. Your customers will shop locally so empower your agents, franchises or local stores to reach out to local custom with leaflets, social media and localised SEO marketing strategies. Not only could you boost your business but by advertising locally you will increase your brand awareness and possibly create business to business relationships.
Including a promotion or discount on a leaflet or business card that can only be used in your local area is a high impact, cost effective way to start a localised marketing campaign.

Take Advantage of Every Opportunity
Some companies continue to insist on doing business in person which means there could be a well of untapped business in your local area, if you only looked. If you don't advertise locally you lose the opportunity to gain their custom and you lose potential income. Make sure you take advantage of every opportunity and reach out to your neighborhood.
Why not kick start your localised marketing with our flyers and leaflets? Find all the product information you need right here.
Remember Better Printing is always here to help. If you need advice or guidance on what products would work best for your business, just contact our friendly and helpful staff today on 023 8087 8037 or email: info@BetterPrinting.co.uk