Lamppost Banners Printing
At business events and corporate exhibitions all across London and the south east you'll be noticing lamppost banners popping up to showcase businesses and their products and services. And if you haven't seen them yet then you really ought to get on board with this innovative take on marketing displays. Lamp post banners are an excellent visual attraction, hugely effective at obtaining the attention of passers-by and their potential custom, and provide great value for money.
That's why we're using our blog this week to tell you more about the incredible benefits of using lamppost banners as a marketing tool of choice. They are robust enough to last as a marketing investment, and achieve an economical use of space.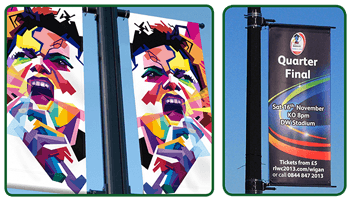 Lamppost banners are designed to be mounted onto lampposts or walls and can display a whole range of text and imagery as part of your core marketing message. They can be double-sided and crucially, do not take up valuable floor space, leaving you room for other business activity.
Providing a robust and durable choice in marketing material, as opposed to paper based posters or displays because they are printed onto a thick and durable PVC waterproof material, or on a strong mesh banner, lamppost banners are specifically designed to withstand the elements and general wear and tear.
When you obtain your lamppost banner from a reputable and reliable
company like Betterprinting, you can be sure that you'll receive a full lamppost banner kit, if you desire. This includes the banner and the brackets, made up of castings and tubes, together with instructions on how to mount it.
Creating artwork for your banner needn't be a scary or difficult task either, with help at hand from our team of experts. We can advise on the best types of text and imagery as well as the layout and style of your content to best match your company branding, as well as ensuring that your lamppost banner meets your intended message delivery requirements. What is more, we have artwork size guides and templates, in addition to technical instructions, all free to download via our website. So it couldn't be simpler or more stress-free.
Contact our friendly and helpful staff today to see how you could benefit from a beautifully crafted and mounted lamppost banner.