Introducing our One-Stop Conference Solution – Part 2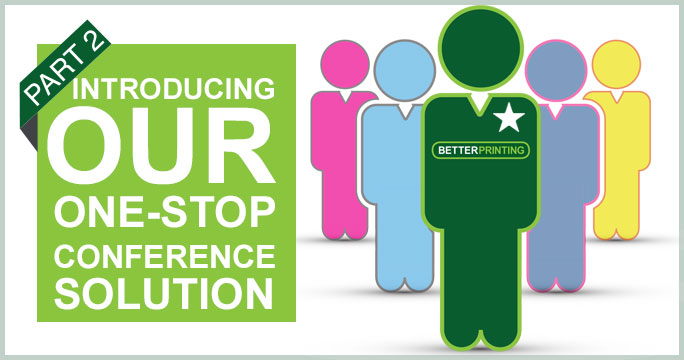 A Handy Guide to Your Successful Conference Experience
Whether you're organizing the entire conference or just exhibiting at one, it can become a stressful and overwhelming experience, instead of the exciting, informative and useful event it should be.
With over 30 years of experience as one of the leaders in the print industry, we've attended our fair share of conferences – both as guests and as vendors. Some of them have been incredible and some… less so.
At Better Printing, we aim to achieve the perfect print partnership, helping you out in any way we can. That's why we've created a handy guide to surefire conference success!
Tips for Exhibitors: Our top 3 tips for drawing traffic to your stand
Refresh Your Brand:
The first trade show of the year is a great excuse to refresh your brand and generate new business. A fresh look makes a great impression and offers something new to potential customers who may have dismissed you in the past. You can print everything you need to refresh your brand in one place with Better Printing; saving you time, money and guaranteeing colour consistency.

Plan Ahead – Offer Incentives:
The best way to get customers to drop by your stand is to give them a reason for doing so. Exhibition Hosts will often give out a list of attendees to vendors; using the list, establish who your target audience is and pursue these attendees. Use social media to announce your presence at an event and offer a price promotion, show discount or free gift for those who stop by.

Look Great:
You want to aim for a calm, relaxing and captivating space in an otherwise chaotic trade show environment. Chances are you won't have much space to work with, so don't clutter your space with unnecessary furniture or overly large displays, as the majority of your selling will happen through just talking to people. You may only need a small lectern or stand-like piece. Make sure your signage is visible, eye catching and reflects your branding – you want to attract the people that you reached out to pre-show. Our exhibition packages are a great starting point.
---

Tips for Hosts: Our top 3 tips for ensuring your conference is a success

Advertise, Advertise, Advertise:
Face it; no one will turn up if they don't know about or aren't excited about your conference. Create a logo and colour scheme for your conference and display it on the website and all promotional material. Spread the word about the event through emails, blogs and social media as well as using more traditional print methods. A conference hashtag is the perfect way to generate discussion and interest before, throughout and after the conference – encouraging attendees to return again next year.

Embrace Technology:
Whether you get people involved with a conference hashtag or develop a handy conference app with all the information attendees may need, take advantage of technology.  Remember, if you are trying to get attendees involved by asking them to tweet throughout the conference then make sure you offer Free Wifi. Live web streaming is also a great way of making sure your conference is remembered long after the event itself, while also allowing those who may not have been able to attend in person to still participate.

Peer Networking:
People aren't going to come to your conference unless they feel they're going to get something out of it. One of the main reasons for attending a conference is the chance to network with other industry experts, so you need to give your attendees this opportunity! Add regular refreshment breaks to your conference to allow for peer networking and include more relaxed areas where attendees can mingle comfortably. Consider the use of icebreakers to get attendees interacting with one another – but be careful; done badly these can cause embarrassment, awkwardness and resentment. We recommend an oldie but a goodie: Have participants say three things about themselves – two true and one false. Other participants guess what the lie is and the correct guesser goes next. Silly, fun and insightful.
Simply call us on 02380 878 037 to find out more about how Better Printing can help you with your conference experience.