Halloween Design Tips
Whether it's flyers, banners, leaflets, posters, or even online marketing, doing a Halloween-themed promotion is always popular. But how can you make sure you set your promotional materials apart from your regular products? We've got you covered with our top 5 spooky and scary Halloween Design Tips.
Colour
The most obvious but crucial part of a Halloween design. Obviously blacks, greys and reds are a solid place to start to get your marketing materials looking creepy! However, you can't go wrong with black and orange to evoke the spookiest night of the year – orange text on a predominantly dark background certainly stands out!
Fonts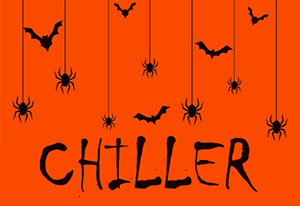 Now's the time to get creative! Consider using a novelty or decorative font to really make your text stand out. Jeepers  and Chiller (pictured) are both fantastic fonts to really get your spooky message across! When using novelty fonts, don't forget that the most important thing is that your message is instantly legible!
Imagery
Don't forget that some top-quality images can make all the difference between something run of the mill and something utterly spooktacular. If you're struggling with taking suitable photographs, try a site that provides stock photography; Pexels or Unsplash are particularly useful for excellent Halloween photos (and you can get some for free)!
Borders
A classic design element to any hard marketing material, you can implement borders to great effect on spooky Halloween promotions. Creating a custom border might be a little time consuming, but just imagine your flyers being surrounded by goblins, ghosties or ghouls! It certainly has some impact! Try using Canva's free design tools to come up with some curiously creepy borders!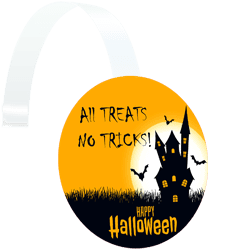 Add A Surprise
And finally… it's Halloween – it would be criminal not to include a little jump here and there! Think about implementing a pop up design in your cards, invitations or leaflets: everyone loves a spooky scare! Consider using shelf wobblers to complement your in-store marketing materials or a cut to actual shape die cut flyer – spiders, witches and ghosts can leap off the shelves towards your customers!
Don't forget- if you need any help with your Halloween designs, our friendly team of in-house graphic designers would be happy to help! Just get in touch!