Guide To Creating An Effective Marketing Campaign
When designing a marketing campaign, it can sometimes be a little difficult to know where to start! That's why we've compiled a guide to creating an effective marketing campaign – everything you need to know in one handy article! Let's get started!
Have a clear brand identity and message
First things first – what is your campaign about? Is it advertising a sale in store, celebrating a festive event or welcoming students back to university halls after a break? Whatever it is, make sure you create a staple message tagline for your campaign – it can be as simple as 'Sale now on,' 'Merry Christmas' or 'Welcome Back!'. Once you have a clear idea of what your campaign is doing, it's much easier to create your material designs.
With that in mind, ensure your branding is ALL OVER your marketing materials. Include your logo, company name and contact information. But go one step further with your design – include colours that evoke your brand and add QR codes linking directly to your website or social media.
Stick to one overarching design
Create a strong design for all your materials. Not every single item needs to look identical, but it's a good idea to have an overarching design or theme, so that your campaign becomes recognisable.
If you're struggling to create eye-catching artwork, remember that we offer design services; one of our in house graphic designers can create bespoke artwork for you, to be used across your entire campaign.
Create the right marketing materials
Not all campaigns will be the same and as such, some marketing materials may be more appropriate than others. With our Marketing Campaign printing services, we offer an account manager who can offer professional advice on which materials to use for maximum efficacy. However, the following printed products are good staples for any marketing campaign.
Stores and venues: Shelf Talkers, Shelf Wobblers & Bottleneck Collars
For in store campaigns, shelf talkers and shelf wobblers will help create a cohesive marketing aesthetic throughout your shop. Line your shelves with shelf talkers and convey your message to customers. Use shelf wobblers with complementary designs to really catch eyes – the constant movement of the protruding, wobbly sign will be sure to draw customers in.
Similarly, bottleneck collars are a fantastic way to integrate a marketing campaign into your products. You can add messages, images, discount vouchers and QR codes to your bottle neck tags and make your products work even harder for you!
And, if you're creating a campaign outside of a store (for example, a welcome back campaign to loyal clients), adding a themed bottleneck collar to a bottle of wine, or the water bottles you provide for a conference, can be the extra winning touch to your marketing campaign!
On the go: Cup Sleeves
A fantastic way to promote your marketing campaign on a personal level, cup sleeves can be designed with any message or artwork that you like! When creating a marketing campaign, it's often easy to think of the larger scale materials – banners, posters etc. Whereas these undoubtedly get the attention they deserve, smaller scale, hand-to-hand marketing has proven very effective. Integrate cup sleeves into your campaign and promote your message through the customer's morning coffee!
Outdoors: PVC Banners and Bollard Covers
An absolute must have! When it comes to large signage, there's no shortage of choice! Roller banners, posters and window graphics can all be used to great effect indoors, however PVC banners are an essential to take care of your outdoor marketing needs. Catch passersby with brightly coloured outdoor PVC banners.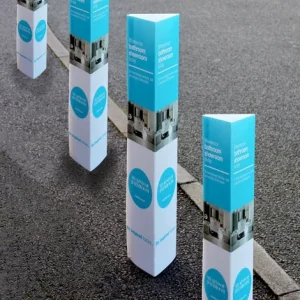 Top tip! If you need an outdoor banner displayed in a windy area, take a look at our mesh banners. These handy outdoor banners have tiny holes in them to ensure your message isn't lost in the flapping wind!
Similarly, create a cohesive marketing campaign outside your shop and provide bollard covers alongside your banner signage. These nifty devices will turn blank space into a fantastic advertising opportunity. With brightly coloured PVC banners and bollard covers, your storefront / carpark / outdoor space will turn into a fantastic marketing opportunity.
Direct mail: Leaflets
Tried and tested advertising – flyers and leaflets are traditional, effective hand to hand marketing solutions. Whatever your campaign, you can probably use printed flyers or leaflets to great effect.
If you're worried about your environmental impact – no problem. We offer recyclable leaflets printed on already-recycled paper, or on Kraft paper (brownish in hue, unbleach and recycled) for maximum eco-friendliness. Get the word out and stay environmentally friendly!
You can even make your leaflets work harder for you – add a perforated section and provide a coupon, discount code or loyalty card: two marketing materials in one!
Additional small scale signage
We all know how beneficial pop up banners (often called roller banners), posters, forecourt signs and other large scale signage can be. But don't overlook the smaller marketing solutions. Take advantage of custom printed tent cards or table talkers for social settings, foyers, business-owned restaurants or workspaces.
Make Your Offline Materials Online
Nowadays, a large proportion of potential customers viewing your marketing campaign will have a smartphone ensconced in their pocket. Whereas traditional marketing materials are absolutely effective at engaging customers, give them the opportunity to find out more with extra information at their fingertips.
The best way to do this is to include scannable QR codes linking potential customers to your preferred online presence: be that a quick-loading, comprehensive website or your regularly updated social media presences. Make sure if you are linking customers to your online pages that they are regularly updated, eye-catching and have clear calls to action.
You can even use hard marketing materials to integrate with your social media. For example, use custom selfie frames (designed with your branding and contact info) and create a competition for best pic posted to social media; both online and offline marketing will work seamlessly together to create a buzz around your brand.
Consider your placement
Now you've got all your cohesive marketing materials, you need to put some thought into where you place them. If your campaign is focused on one store / venue, this makes life easier – some materials inside, outside and in the opening foyer is a good rule of thumb.
However, if you're working on a marketing campaign for say, a university, it's best to work out where the greatest footfall of students will come from. If you're orchestrating a 'welcome back' campaign, for example, you might want to consider halls of residence, cafeterias, social spaces and common rooms.
Should you need any assistance with your campaign strategy or wish to have a dedicated account manager oversee your campaign materials' creation, take a look at our Marketing Campaign Printing services or get in touch today!