Golf Scorecard Printing
Golf scorecards are an essential part of any golf game. They not only help players keep track of their scores but also serve as a record and memento. Custom printed golf scorecard designs are an excellent way to enhance the golfing experience and promote your brand at the same time. But what can a custom golf scorecard offer your business? Let's find out…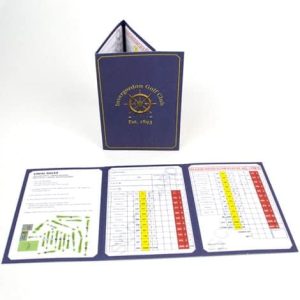 When Might You Use A Printed Golf Scorecard?
Custom printed golf cards can be used by many different businesses for many different uses. Some popular inclusions are:
Golfing companies creating high quality scorecards to help with repeat custom
Businesses organising golfing outings for team motivation building purposes
Corporations using golfing events as a way to network with clients – including their branding on golf cards as a way to ensure ease of future communication
Business meetings and B2B relations

Pub golf scorecard printing for bar crawls, Freshers fairs etc. 
Golf Scorecards Offer Brand Awareness
Custom printed golf scorecards are a great way to promote your brand. By including your company's logo or brand colours on the scorecard, you can create a memorable and professional impression for your golfing guests. Golfers often keep their scorecards as a keepsake or souvenir, which means that your branded scorecard will continue to promote your business long after the game is over.
If your business has sponsored or organised the game, it also gives you a fantastic opportunity to upsell. Add a QR code to your golf cards, linking players directly to your product or service online. Or get creative and link to a social media competition encouraging players to share pictures or reviews.
Golf Cards Create A Sense Of Professionalism
Having custom printed golf scorecards shows that you take your golfing events seriously. By investing in quality scorecards with a professional design, you show your guests that you care about their experience and want to provide them with the best possible golfing experience. This attention to detail can help create a positive impression of your business and enhance the overall atmosphere of the event.
And this doesn't just apply to golfing companies. If your business organises a motivational work trip, corporate retreat or client meeting over a golf course, providing custom printed golf cards shows attention to detail and provides an inherent sense of professionalism.
Your Golf Scorecard Design Can Include Almost Anything
Custom printed golf scorecards offer a high degree of customization. You can choose the design, colours, and layout of the scorecard to match your branding and create a unique look for your event. You can also include additional information on the scorecard, such as a map of the golf course or a list of sponsors. This level of customization allows you to tailor the scorecard to your specific needs and make it a valuable tool for promoting your business.
We can also offer variable data printing for your golf cards! This means you could even tailor each card to the specific customer, client or business partner, adding that extra touch for personalism and professionalism.
A Print Golf Card Is Easy To Use
Custom printed golf scorecards are designed with the golfer in mind. They are easy to use and provide a clear and concise record of the golfer's scores. By providing golfers with a high-quality scorecard, you help them focus on their game and enjoy their time on the course. This positive experience can lead to repeat business and referrals, which can ultimately help grow your business.
Printed Golf Cards Offer A Memorable Experience
Custom printed golf scorecards create a memorable experience for your guests. They serve as a physical reminder of the event and help golfers remember their game and the people they played with. By providing your guests with a personalized scorecard, you create a lasting impression and enhance the overall experience of the event. This can then become a fantastic organic jumping off point for interacting with customers, sending them to your website via QR codes, creating a favourable impression and providing a talking point for follow up emails. 
Whether you are a golfing company, a business looking for a fun work outing or a corporation looking to use a golf game as a way to network with new clients, personalised golf scorecards could really help your business. Similarly, custom printed pub golf scorecards can grow your engagement and business – if you're sponsoring a Freshers' event or pub crawl, including your contact details, QR codes or even discount codes to encourage sales is a fantastic piece of organic marketing.
Custom printed golf scorecards are an excellent way to promote your brand, enhance the golfing experience, and create a lasting impression for your guests.
We can print golf scorecards for you! Take a look at our golf cards and please contact us with any questions you may have.
Unsure how to fill out a golf scorecard? National Club Golfer has you covered!