Printed Folded Leaflets


Folded leaflets offer a brilliantly versatile way to promote products and services or events in a way that maximizes the use of space as well as organises content in a logical fashion. They are also an affordable and cost effective marketing tool – which probably accounts for their popularity as a direct marketing method.
You would be forgiven for thinking that a leaflet fold is simply a matter of folding paper in half – but it's oh so much more than that. And what's more, different folds can have different advantages depending on the purpose and intent of the leaflets as well as the content and the intended audience. So that's a good place to start – understand your leaflet needs. And then use our guide to pick the right type of fold for you.
Gate Fold
is a fold that has the left and right edges folding inwards which both sides meet in the middle of the page without any overlapping. This type of fold is extremely popular with weddings and special events.
Also known as a Window Fold / 3 panel gate fold / 6pp gate fold / Closed gate folded leaflets.
Z – Fold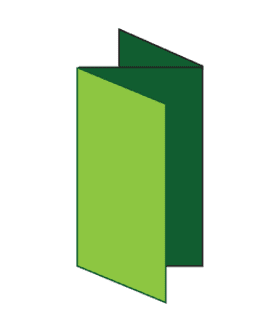 is a popular leaflet fold choice as it is simple and uses minimal effort in producing as well as for the reader. It offers four internal spaces for content and two external covers – all of the same shape. Because of the layout, it works well for content that either reads seamlessly in a narrative fashion – such as information leaflets that work chronologically; or where information needs to be presented in a list – such as a menu or pricelist.
Also known as an Zig Zag Fold / 6pp Accordian Fold.
Letter Fold
is a one page folded equally in three. The layout is ideal for opening up to show a combination of text and images that cross over the page and can also be a great choice for in struction leaflets that need content to be presented in a particular order.
Also Known as an Tri-Fold / 6pp Roll Fold.
Concertina Fold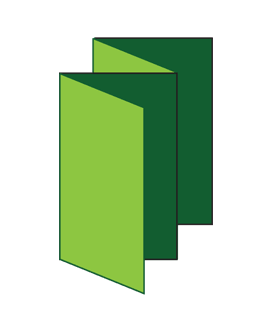 A concertina folded leaflet is definitely a brilliant option for a leaflet that needs to take up less space when folded but needs more content space. This folds up to a slim-line finish so is tidy and compact but opens up to provide the space for substantial information. It is therefore a very practical solution for leaflets that have various sections of information on a variety of topics or services. It is less suited to events or promotions where too much information is off putting but better for leaflets that are intended to be kept and to be longer lasting – so the paper quality and finish is important for these too.
Also know as Accordian Fold.
Half Fold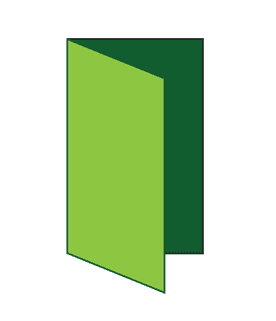 is a very popular fold as when opened it has expansive space that is ideal of text and imagery that needs to stretch out across the page. It is also good for event leaflets as the space can enable larger text fonts to be used.
Also known as a 4pp single fold.
These are our most popular flyer, brochure and leaflet folds we do but there are many other folding options available please see images below.

So do take the time to consider how you want your content to be displayed and the opening effect you want your leaflet to have and select an option that suits – but don't be afraid to seek advice from our friendly staff who will be only too happy to point you in the right direction.