Festival Print
The UK's festival season is already upon us, with thousands of festival fans flocking to events across the country.
Isle of Wight, Glastonbury, Reading and Leeds, download, wireless and lattitude are just some of the major ones on an ever expanding list.
If you're a regular vendor on the nation's festival circuit – or perhaps running your very own festival – you're probably so busy organising the logistics that you've left your print materials to the last minute. But not to worry! We've put together a handy checklist of print collateral and display items to help you get ready for the festival season.
Festival display solutions
Whether you're a vendor hoping to draw the crowds to your stall, or a festival organiser looking to help people find their way across your site, a good display can help you cut through the visual noise of a bustling festival environment. Here are our top picks:
• Outdoor PVC banners: Also available in super wide sizes, and with wind-safe mesh and metal display frames for the ultimate festival-proof solution.
• Outdoor X banners: Useful if you're tight on stall space, and super portable when it comes to taking your setup on the road.
• Bollard covers and floor stickers: If you're hosting an indoor city festival or a street carnival, these make for attractive urban navigation aids and quirky advertising for your stall.
Identification and access control
When you're dealing with thousands of attendees, how do you keep on top of the security and access for your festival staff, artists and VIPs? We've got you covered:
• Lanyard badges: It's hard to lose your backstage pass when it's around your neck! With variable data printing, you can add guest list names to each badge or even add scannable barcodes and QR codes to integrate with your electronic access systems.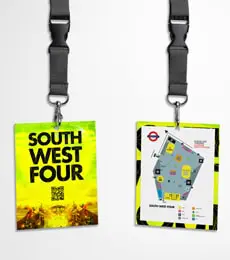 • Event tickets: As well as enabling festival entry, these items also make great direct marketing tools for attracting VIPs and journalist coverage – and they're pretty good as souvenirs, too.
• Hangers: If your festival offers on-site parking, give your ticket holders a hanger to hook onto their rear-view mirror. They're a perfect visual aid for your parking security staff; and they can even provide automated access at the gate via barcode/QR code scanning.
Take-home handouts
Everyone loves a memento of their festival experience. Whether you're an organiser or a vendor, handouts are often the key to winning long-term customers after the festival is over, and encouraging guests and performers alike to return for next year.
• Stickers: A fun souvenir and free display advertising for your business all in one! Give them out to festival goers and performers, and watch your brand turn up on guitars and flight cases around the country.
• Loyalty stamp cards: How do you win repeat business from attendees when they have hundreds of other vendors competing for their attention? Loyalty cards are a good way to get them coming back to your stall for the whole weekend; plus you might even turn a few locals into regular customers once you're back at home!
• Brochures and catalogs: Perhaps a little too corporate for most music festivals, but it's a good idea to have a few on hand – particularly if you're a vendor at more niche events such as film, comedy and motor festivals.
• Business cards: The classic universal marketing tool that no business should be without. Leave a stack of them on your stall counter and let your customers take your contact details home with them.
Looking for a printing partner for your festival season? Better Printing can provide all the items on this list and more – all printed with your own custom artwork. To find out more or to request a direct quote, call us on 023 8087 8037 today.