Die – Cutting in print
Whether you're a small business, a new business, an existing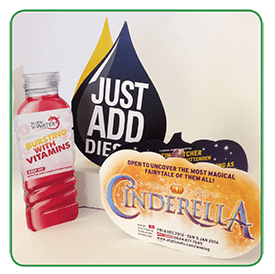 and established company, a large scale multi-location business, a mobile company or remotely located, one thing that's likely is that you will have competition in your field, and when you have to compete with so many businesses in your sector, your marketing material needs to stand out from the crowd.
In such instances using a different and unique technique on your printed products can be a good way to do this.
One such technique is die-cutting, This involves cutting out complex shapes from paper using a cutting forme.
This cutting forme is produced from plywood with the cutting template laser cut into it.

A metal cutting rule is then carefully moulded into the desired shape and inserted into the plywood to create a reliable and robust cutting tool.

You may wonder what the use for this die cut technique is. Well, its very popular with all kinds of products, from creating the internal storage of folders, cutting into envelopes, and making unusual and visually appealing report covers.
It's a unique way of modernising and creating impact from your printed marketing material, a way of creating print that stands out.
Die-cutting shapes in print have also become increasingly popular for business cards, to create an effect that stands out from the traditional rectangular piece of card. Add to this an effective use of colour, paper texture and visual design and you have yourself a truly original end product that can make you more noticeable from your peers.
Here at Betterprinting, we have been mastering the skills involved in die-cutting to ensure that our customers get a precise and professional finish.
Our technical skills coupled with our high quality design expertise results in die-cutting projects that offer true quality and excellent customer service.
Our friendly and helpful staff can also help with designing a die cut design using your branded identity, such as your logo, lettering or shapes from your corporate style.
We can even couple branded die cutting with functions, such as pockets or windows.
If you're not sure how die cutting can be of benefit for your project or wish to know a little more about how it works or the impact on your budget, then give our team a call who will be more than delighted to tell you all about the brilliant benefits of using die cut shapes in print.