Better Printing Christmas 2020
2020 hasn't been the best year for anyone and quite frankly, we could all do with a very Merry Christmas! Give your valued customers and clients a bit of festive cheer by sending out a variety of joyous, jolly and jovial marketing materials!
Send out personalised Christmas cards this December, to give your customers a bit of extra Christmas cheer, and thank them for their loyalty and custom in a difficult year! With variable data, we can create a print run of uniquely named cards – each one for a different customer on your database. With a beautiful festive custom-designed front (complete with your logo and branding), consider printing a discount code for the new year on the back as a little Christmas gift! Your customers will be sure to respond positively!
Similarly, you might like to send out a wintery newsletter to your loyal customers, letting them know your progress and news from 2020. Each newsletter can be printed with your own custom designed artwork, and can even be printed with your customers' individual addresses, so they can go straight into the post! Consider inserting a cheeky flyer in the newsletter with a discount code off their next order, expiring at the end of January, to really give your new year sales a boost.
Give your customers some festive joy with a limited run Christmas-themed box sleeve on their products! Keeping costs low, but aesthetics high, box sleeves are a cheap, effective way to change your packaging, without needing to re-do the whole box. Design your box sleeve with reds, greens and whites, and perhaps add a touch of something extra special, like foiling or Spot UV, to really make them feel like they've received a present!
Use your limited-run Christmas 2020 sleeves for December – then revert to your normal packaging, or even consider a January sale sleeve, to really encourage buying power.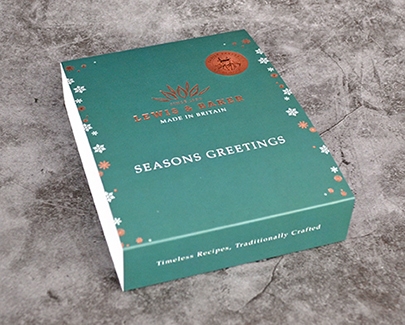 Good things come in small packages! Transform your pillow boxes in to bundles of festive joy, with a custom-printed wintery design! As with box sleeves, consider adding foiling, lamination or Spot UV to really add a touch of luxury- we could all use a treat this year!
And don't forget – nothing spreads festive cheer like bright, colourful, Christmassy signage in or outside your store or business! Consider signs and roller banners with winter scenes, wishing your staff and customers a Merry Christmas! Bollards can be transformed into free standing snowmen with our custom-designed bollard covers! PVC banners can be put up outside your business, advertising your festive products or sale!
With our speedy turnaround, we can get your orders to you within 5 days of proof approval – so order now for your festive marketing solutions, and spread a bit of Christmas cheer this 'unprecedented' year.