Black Friday 2020
Nowadays, we associate the term 'Black Friday' with shoppers keenly looking for a pre-Christmas bargain, but it wasn't always the case. The first recorded use of the phrase was actually referring to a financial crisis. When the U.S gold market crashed on September 24th 1869, the term was born.
More recently, the phrase was coined by American citizens for the day after Thanksgiving, which is always celebrated in the States on the fourth Thursday of November. Consequently, Black Friday marks the beginning of the Christmas shopping season for many in America, and it's a tradition that we in the UK have adopted in recent years.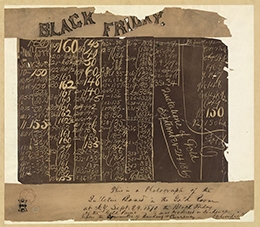 The earliest documented evidence of the phrase 'Black Friday' being used to describe this day dates back to 1961 – where police used the term to convey the heavy traffic, both pedestrian and vehicular. Nowadays, the suggestion is that 'Black Friday' is so named because it's the turning point in the year where stores go from the 'red' to the 'black', after turning huge profits on this day.
Many may associate Black Friday now with cracking Amazon deals, crowded high streets and stores opening at midnight to let customers take full advantage of their generous sale prices. The ideal time to get your Christmas shopping done, you might say, as many products have whopping discounts.
However, this year Black Friday falls on Friday 27th November – sadly still in the November lockdown here in England. This means that businesses may have to rethink their marketing materials; many stores for example, would tend to create large posters for in-store campaigns, but sadly this won't necessarily work for everyone this year
If you're a business owner gearing up for Black Friday, consider custom printed signs, banners and posters, if your business is remaining open during the lockdown. Here at Better Printing we can print your own Black Friday design, or you can leave it to our in-house graphic designers to create eye-catching promotional materials, to really encourage your customers to take advantage of the deals.
However, if you are hoping for more of an online influx, consider sending flyers, leaflets and newsletters to your loyal customers, encouraging them to buy online, perhaps including additional discount codes as incentives.
2020 has been a strange year for all of us; let's try to keep the excitement and spirit of Black Friday alive, even if it has to be remote purchases all round!