A Basic Guide to Variable Data Printing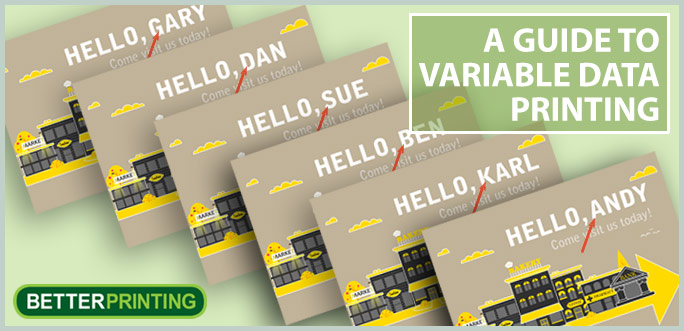 Are you a VDP first timer? Feeling a tad overwhelmed by the process. Not to worry. We've created a basic guide to take the mystery out of VDP.
First things first, what actually is Variable Data Printing?
Put simply variable data printing is the mass customisation of multiple documents. It enables you to create multiple versions of the same product with personalised content and images for each recipient. Imagine your a veterinary practice, instead of sending a generic appointment card reminder, you send a reminder with your customers name, the name of their dog and a product brochure based on what they normally buy for their pet. All this can be done hassle free with VDP.
What can it do for me?
In a marketplace so saturated with brands and advertising, making a human connection is more essential than ever. Every customer is unique, with different hobbies interests and ultimately different buying habits. VDP allows businesses to talk to their customers one on one. Going this extra mile makes a customer feel valued and when they feel appreciated they're that much more likely to return.
In fact variable data printing promises: more sales, higher response rates and increased customer loyalty it's even been proven to increase mail response rates by 5% to 12%. By using VDP your company will get more attention and each promotion will become more cost effective.
Still don't believe us? Think about the 'share a coke' campaign; more than 150 million personalised bottles were sold. Coca Cola achieved worldwide success and spoke to every single one of their customers on a personal level, just by adding a name to their product labels.


How does it work?
First of we need you to create a database filled with all your customers' information and all the variable content and graphics you want to include. We then base all of your documents on a master template in the program 'Print Shop Mail' so branding is consistent and the key messages can be kept the same across each product. During the printing process, computer applications take content from your databases and insert it into the printed document or product according to preprogrammed rules specifying what content or graphic is used where.


How do I set up my database?
For most VDP jobs, all you need to provide is a simple table containing all the names, addresses, copy, graphics, and photographs that will be used for each copy of the document or product. We recommend using an excel spreadsheet and formatting it so that each row corresponds to a single record and each column refers to a specific field e.g. the customer's surname or address.


Any last minute tips or advice?
Be patient: It may take a while to gather all of the necessary data to create a fully personalised mailer for several thousand customers, but we promise it's worth it.


Communicate with your print providers:
Without the proper data files, the variable data printing process can be a nightmare. If you're not sure about how your database needs to be set up, then it is always better to ask your print provider rather than risk an expensive and costly print mistake. When your database is properly set-up, the printing process itself takes no longer than your bog standard print job.
Remember Better Printing is here to help. So if you have any questions or want more information about the services we offer just call us on 023 8087 8037 or email:  info@BetterPrinting.co.uk