4 ways to use collection boxes for more than just fundraising
Money collection boxes are a vital part of any charity fundraising campaign – but that's not all they can do. They can also be valuable tools for your customer marketing, decision making, and even research and creative projects.
To give you a little bit of inspiration, here are just a few ways to unlock the full potential of collection boxes.
Personal coin banks
Everyone likes to save money – or at the very least, they like having savings!
If your business offers financial services, or you're targeting your brand to the thrifty consumer, why not send your customers their very own mini coin bank through the post? Every time they put a coin or two away, they'll think of your brand; and best of all, they'll keep providing free advertising for your company until they've been filled to capacity.
Ballot boxes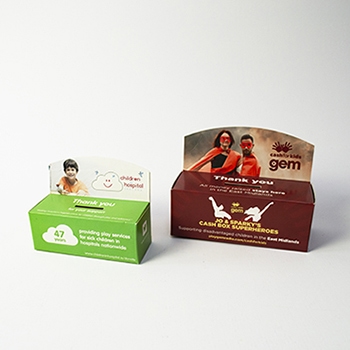 Need help deciding on your next charitable project, or electing a leader for your community organisation? Collection boxes make for great miniature ballot boxes; allowing team members and/or paying customers to vote for their choice.
There's plenty of ways to customise your voting system, too. You could have a single box with paper ballot slips, or provide a box for each choice and provide each voter with a plastic token or paper ticket in order to cast their vote.
Feedback & suggestion boxes
Whether you're seeking customer feedback to improve your services, or looking for ideas within your own team to cultivate a happier, more efficient place to work, a suggestion box allows responders to submit their honest thoughts in confidence.
Customer survey slips can also be a valuable means of growing your mailing list and sourcing participants for more in-depth feedback sessions. Keep in mind that you may need to encourage customers to leave their contact details with a little incentive – perhaps entry into a prize draw, or a discount code for the next time they purchase with you…
Thoughts & research collection boxes
The anonymity of collection boxes isn't just great for ballots and customer feedback; it can also be handy for gathering the personal thoughts, feelings and experiences of participants for research and/or creative projects.
The sky's the limit here. Perhaps you're a school organisation working to create an anti-bullying campaign; by setting up a box for students to express their experiences, you'll not only gain valuable information on which specific issues to target, but the anonymous responses can also be integrated into your campaign to show how bullying truly affects people.
Looking for custom-printed collection boxes for your next creative project or marketing campaign? Take a look at our collection box page, or get in touch on 023 8087 8037 for a direct quote today.