Which type of booklet is right for your project?
Saddle stitch, perfect bound and wiro bound.
Let's take a closer look at book binding methods – how they're made, the benefits each type offers, and the things you'll need to consider before you order a whole print run of them!
What's saddle stitch binding?
Saddle stitch binding is essentially the same as stapling. Each leaf of the booklet is folded in half to create four pages, then placed over a triangular metal frame (like a saddle on the back of a horse) and stacked one on top of another. The middlemost pages sit at the bottom of the nested stack, while the front and back covers sit at the very top.
Once all the pages have been nested, they're 'stitched' together using short lengths of metal wire, which are threaded through all the pages at the spine. The fastened booklets are then further pressed to help them stay folded and flat when closed.
Advantages of saddle stitch binding
• Affordable quality. Saddle stitching is a more cost-effective alternative to perfect binding, but retains a similar level of presentation quality (particularly for smaller, limited-use publications such as reports and event programmes). It's also relatively quick and easy to produce – which makes it ideal for last-minute, fast-turnaround orders.

• Ability to lay flat. The spine of a perfect bound book will put up some resistance to staying open, and heavier books can sometimes fall shut by themselves – which can be a nuisance for recipe books, instruction manuals and other publications where the reader will need their hands. A saddle stitched book will generally be less susceptible to this problem (although it won't lay quite as flat as a wiro bound book).
Things to consider with saddle stitch binding
• Limited page counts. Since each leaf forms four pages, every saddle stitched booklet can only contain pages in multiples of four. Also, booklets with more than 48 pages (depending on paper thickness) will tend to pop open slightly instead of lying flat.
• Paper creep. Each leaf of your booklet will naturally protrude slightly from the leaf it's nested within. This is usually only an issue for booklets with thicker paper stocks and/or higher page counts, and can be fixed by trimming to outer edges of the booklet after assembly – but the artwork design of your pages might need to be adjusted to prevent print elements drifting to the outer edge of the booklet (and potentially getting trimmed off).
What's perfect binding?
In a nutshell, perfect bound booklets are glued together rather than stitched together, with two pages to each leaf rather than four.
The booklet's leaves are placed in a simple vertical stack and glue is placed along the left edge of the stack; the stack is then nested inside the booklet cover so that the glued edge fastens to the spine of the cover. Finally, the three outer edges of the book are trimmed to ensure a seamless finish.
Advantages of perfect binding
• More professional appearance. Every page of a finished perfect bound book has the same dimensions and won't suffer from the page creep problems that saddle stitching can bring. It also generally looks and feels more like a premium publication than other binding methods.

• Larger page counts. With better durability and no bulky folded spine to worry about, perfect bound booklets can store a lot more pages – up to 144, depending on paper thickness!
• Extra cover printing space. Out of the three bookbinding methods listed here, perfect binding is the only one which gives you the space to print the name of your publication on the spine – so your booklet is still identifiable in a shelf or stack of other publications.
Things to consider with perfect binding
• Inability to lay flat. As we covered earlier, perfect bound books prefer to stay shut and won't lay flat on a table or stand – which makes them less ideal for presentations and instructional publications.
• Less economical. Perfect binding is a good choice for publications which are intended for multiple readings; but for items with a shorter shelf life and smaller page counts, it's more affordable to go with saddle stitching instead.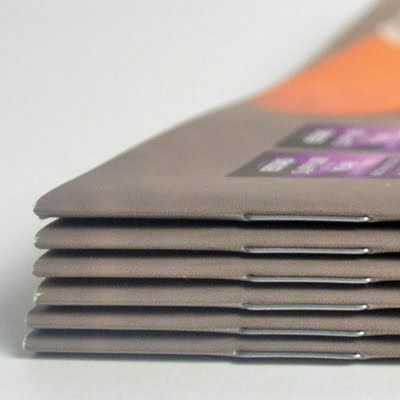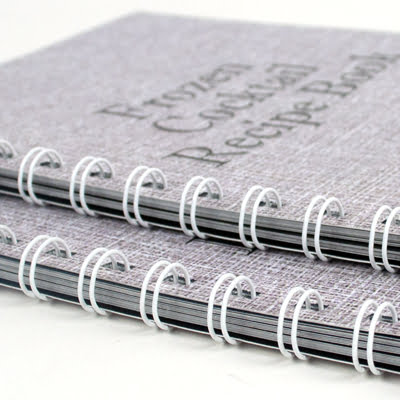 What's wiro binding?
With wiro binding, each leaf is hole-punched and threaded onto an open wire coil which forms the book's spine. Once all the pages have been placed onto the coil, the wire is bent to close the loop and keep the pages securely fastened to the spine.
Advantages of wiro binding
• A more versatile spine. Wiro bound books lay flat with no resistance whatsoever, and since each page can move almost a full 360 degrees around the wire loop, you can simply open the book to the one page you're using and fold the other half of the book under itself. This makes wiro binding ideal for notebooks and journals – they're easier to use on the move and take up less space on a desk compared to other binding methods.
• Even larger page counts. Theoretically, the wiro binding method offers almost unlimited page counts – the bigger the circumference of the wire loop, the more pages the booklet can accommodate.
Concerns for wiro binding
• Less professional appearance. Wiro bound books are highly practical; but if you're looking to print marketing publications to deliver to prospective clients, a saddle stitched or perfect bound booklet is more visually appealing.
• Fragility. It's a lot easier for pages to get torn out of a wiro booklet, particularly with thinner paper stocks. This can be very handy for notebooks and calendars, but it's obviously less desirable for most other booklet applications. The wire spine can also become bent or crushed, particularly if stored with other wiro bound books in a stack.
• Margin space. The inner margins of your pages will need to be punched with holes to fit onto the wire spine – so be sure to leave a bit of extra space when designing your page and cover artwork!
If you are unsure about binding types or have any further questions then call us on 023 8087 8037 or email us.